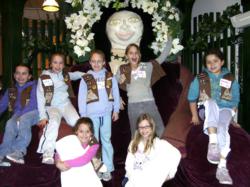 PROVIDENCE, RI (PRWEB) November 30, 2012
Lights, camera, action! Scouts have a starring role during "Movie Magic" evening adventures at Providence Children's Museum as they take a whimsical look at the world behind the silver screen through creative hands-on activities. They'll make moving pictures, experiment with an assortment of sound effects, create and act out skits, and design crazy creatures – plus have plenty of time to explore the Museum's interactive exhibits.
Movie Magic evening adventures include captivating educator-led activities; a Providence Children's Museum Movie Magic patch (plus an Art Belt Loop for Cub Scouts); an evening snack (coffee for adults); and a pass for each Scout for a future Museum visit.
Move Magic adventures for Brownies and Junior Girl Scouts will be held Fridays, February 8, March 1, March 22, April 5 and April 26, 2013 from 6:00 to 9:15 PM; activities can apply to the Brownie "Senses" and "Inventors" badges and Junior "Entertainment Technology" and "Scribe" badges. Registration is $17 per Scout, $5 per adult; visit http://www.ChildrenMuseum.org/Scouts.asp to submit a registration inquiry.
A Cub Scout evening adventure is scheduled for Friday, February 22, 2013. Registration is $25 per adult/youth pair, $20 per additional youth and $5 per additional adult. For more information and to register, visit http://www.NarragansettBSA.org.
Space is limited. Call (401) 273-5437 ext. 234, email Info(at)ChildrenMuseum(dot)org, or visit http://www.ChildrenMuseum.org/Scouts.asp for more information including registration policies.