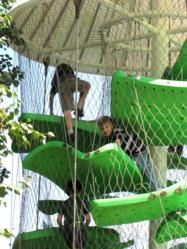 Providence, RI (PRWEB) July 13, 2012
Get out and play at Providence Children's Museum this summer! Splash in a fountain and soak up the sun in the Museum's native Children's Garden – a perfect place to play, explore and take a break with a picnic lunch. Discover two outdoor environments that promote active, physical play: The Climber, an artful two-story-high climbing sculpture, and Underland, a whimsical subterranean adventure through worm tunnels and critters' burrows.
Explore the Museum's great outdoors during Get Out!, a series of active programs on Tuesdays in July and August from 1:00 - 3:00 PM:
July 3 | Stomp Rockets: Kids use the power of air to blast rockets high in the sky.
July 10 | Balloon Badminton: Kids decorate rackets and keep a balloon bouncing back and forth.
July 17 | Mud Play: Kids dig, scoop and build with mud and natural materials and mix up mud pies.
July 24 | Bubble Blast: Experiment with ways to blow bubbles big and small with an array of wacky tools.
July 31 | Weaving Wonders: Explore the art of weaving with natural and recycled materials.
August 7 | Meet a Worm: Kids investigate red wriggler composting worms and night crawlers.
August 14 | Water Movers: Kids build aqueducts from tubes, hoses and funnels to channel water.
August 21 | Hoopla: Kids invent their own fun and games with hoops of all sizes and colors.
August 28 | Jump In: Kids hop, skip and jump as they experiment with a wide array of jump ropes.
Wheels at Work
Wednesdays in July & August
10:00 AM - Noon
Kids get behind the wheel when fascinating vehicles roll up to the Museum during this special summer series. Climb aboard a fire truck, sit atop a giant digger, examine the equipment in an ambulance and meet the drivers who operate them. Explore a different vehicle each Wednesday morning in July and August!
July 11 | Giant tow truck from AAA of Southern New England
July 18 | Bobcat front loader from Providence Public Works
July 25 | Police cruiser and motorcycle and meet officers from the Providence Police Department
August 1 | Cardi Corporation backhoe loader
August 8 | WPRI 12's Pinpoint Weather Mobile
August 15 | Digger truck from the Narragansett Bay Commission
August 22 | Providence Fire Department fire truck and firefighters
August 29 | Ambulance and technicians from Brown University Emergency Medical Services
All programs are free with Museum admission of $8.50 per person; admission is free for Museum members. Visit http://www.ChildrenMuseum.org for more information and a full calendar of events.
Providence Children's Museum – active, hands-on fun, inside and out!
The Museum is located at 100 South Street in Providence's Jewelry District. September through March, open Tuesday through Sunday and Monday school holidays, 9 AM to 6 PM, and selected Fridays until 8 PM. April through August, open 7 days. Museum admission is $8.50 per person; always free for Museum members. Call (401) 273-KIDS or visit http://www.ChildrenMuseum.org.