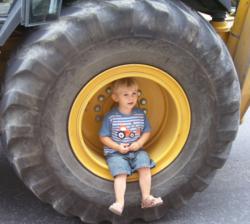 Providence, RI (PRWEB) June 28, 2013
Kids get behind the wheel of working vehicles big and small during a special summer series at Providence Children's Museum. Climb aboard a fire truck, sit atop a giant digger, examine the equipment in an ambulance and meet the vehicle's operators. Explore a different vehicle each Wednesday morning in July and August.
July 3 | Inspect a fire truck! Providence Fire Department firefighters teach kids how their vehicle helps put out fires.
July 10 | Meet Tony Petrarca and see how WPRI 12's Pinpoint Weather Mobile helps meteorologists track the weather.
July 17 | Check out the giant digging bucket of a Providence Public Works backhoe loader.
July 24 | Learn how a digger truck does its digging from a Narragansett Bay Commission operator.
July 31 | Explore a National Grid bucket truck and learn how it helps fix power lines.
August 7 | Get inside a police cruiser and meet officers from the Burrillville Police Department.
August 14 | Climb aboard an ambulance and learn how technicians from Brown University Emergency Medical Services help people when they're injured.
August 21 | Explore Providence Community Library's new bookmobile to discover a library on wheels.
August 28 | Get behind the wheel of a tow truck from AAA of Southern New England and learn how its operators rescue broken cars.
Activities are free with Museum admission of $9.00 per person; admission is free for Museum members. Visit http://www.ChildrenMuseum.org for more information and a full calendar of events.