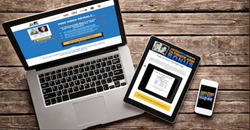 Anyone looking at the ASM program or PAC needs to see what Coisson has to say about the programs.
Phoenix, AZ (PRWEB) April 13, 2014
Proven Amazon Course and Amazing Selling Machine, two of the most popular e-commerce training programs specifically designed for people and business owners specializing in physical product sales, have caught the attention of RyanCoisson.com's Ryan Coisson. After further review, Coisson has decided to do detail reviews of both programs to help consumers make the proper decision for their business.
"Proven Amazon Course (PAC) and Amazing Selling Machine (ASM) both have very similar offerings for businesses in that they both teach people how to sell physical products on sites like Amazon.com," reports Coisson. "Both programs offer people rock solid information, but both programs are definitely not created with the same type of person or business owner in mind. PAC concentrates a lot on reselling while the ASM program by Clark and Katzenback concentrates on private labeling products, which simply put means finding suppliers that will let you to brand products as your own. While PAC does cover some private label, it is not nearly the level to which ASM details it."
Learn more about ASM here; and for more information about PAC, go to their official site here.
While both Proven Amazon Course and Amazing Selling Machine have different pricing, the products are comprised of different things. Upfront it is important to understand that PAC is a much more inexpensive option, but doesn't come with all the bells, whistles, and extras that the ASM program has.
After doing extensive research, Coisson reveals that PAC is a well-built program designed more for the beginner and intermediate product seller looking to start by reselling products on sites like Amazon.com. Cockrum teaches people simple and yet effective processes to achieve their desired results while briefly touching on the private label model as well. Cockrum does have a very active and large forum to help support the Proven Amazon Course customers that he is actively involved with as well. This active forum and involvement is one of the best aspects of the PAC program.
One can read a detailed review of Proven Amazon Course by Shane Michaels here.
As for Matt Clark and Jason Katzenback's Amazing Selling Machine, Coisson revealed that this is a much more robust and interactive program. Clark and Katzenback have put together a program that is designed to help business owners and individuals grow or build their private label e-commerce business and brand.
One of the major differences with Amazing Selling Machine vs. Proven Amazon Course is the layout of the training. Clark and Katzenback have put together a live interactive eight-week webinar series that is supported by eight weeks of additional video training. These modules and webinars walk people through the ins and outs of their program in a very informative and supportive manner. This has actually been one of the biggest determining factors in Clark and Katzenback's ability to have such successful business owners come out of their program.
In addition to the live webinar series and training videos, Clark and Katzenback have put together a support forum, a large and active Facebook group, a top-notch customer support center, tools designed to help one's business, and they even do a live event. The ASM live event is one of the best parts of the ASM program. It allows people to meet other individuals and business owners who are utilizing the training and tools for selling physical products online.
For a more detailed review of ASM, one can visit Coisson's website here.
"Both ASM and PAC provide great information, support and tools for selling physical products, but there are some key areas where ASM provides some major upgrades and a few needed valuable benefits, particularly with the level of training and resources available," says Coisson. "ASM is also a much more long-term and systematized model."
Coupled with the ASM bonus Coisson and his business partners are offering, one will realize what is the right choice for them. For more information on the bonus for Amazing Selling Machine that Coisson and his partners are offering, one should go here.
"While PAC offers a good less expensive option, it is clear that ASM is the better program at the end of the day. Overall, it's important for business owners to go with the right program for themselves and that is why you should look at each one and decide for yourself. The costs of the programs are quite different, but so is the level of training and that is why until one can review them both strategically they may not comprehend which is best for them," states Coisson.