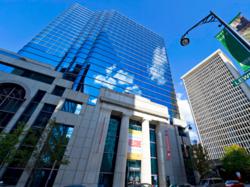 Proven Data Recovery boasts a 97 percent success rate.
Hartford, CT (PRWEB) May 14, 2013
Proven Data Recovery, a leader in data recovery services in Connecticut and New York City, announces the opening of its new offices at 100 Pearl Street, 14th Floor, in Hartford's central business district.
The move is intended to make data recovery services more accessible to the Hartford business community as demand for fast, reliable and certified data recovery assistance increases exponentially. Companies, government agencies and private individuals store enormous amounts of valuable data including files, photos, videos, financial statements and sensitive client information on in-house and offsite storage devices. When systems fail due to disasters caused by fire, storms, electrical damage, mechanical failure or human error, data loss can have a paralyzing effect on people and organizations.
Proven Data Recovery Hartford is on hand 24/7 to restore lost data, and to help clients take measures to avoid data loss in the future.
Proven Data Recovery, a subsidiary of Congi Enterprises, specializes in broad spectrum data recovery services for businesses and individuals including 24/7 emergency data recovery, computer data recovery (internal and external hard drives), Mac data recovery, RAID Recovery, server data recovery, SD card data recovery, photo recovery and SSD drive recovery. Lost or deleted financial files, personnel files, design files, laptop data, camera and photo files can be retrieved and restored, sparing businesses and individuals the financial and emotional impact that often results from catastrophic data loss.
Proven Data Recovery boasts a 97 percent success rate, helping business owners, banks, government agencies, colleges and professional offices, and individuals with comprehensive data recovery services.
"Our strong background in disaster recovery and information security makes Proven Data Recovery a powerful ally to anyone experiencing data loss under any circumstances," says Victor Congionti, Proven Data Recovery Services President. "We utilize recovery strategies that guarantee the highest probability of retrieval, which translates to peace of mind at a time that our clients need it most."
Proven Data Recovery is on call 24/7 in order to move fast to rescue hard drives, servers and files in an emergency. The company's "no data, no charge" policy ensures customers only pay for Proven Data Recovery's services when their systems and files have been successfully restored.
With 15 years of experience in emergency data recovery, Proven Data Recovery also provides free consulting services to help clients prevent future data and system losses.
Proven Data Recovery's Hartford offices are open Monday through Friday 8 a.m. to 10 p.m., and Saturday and Sunday 10 a.m. to 5 p.m., with 24-hour emergency phone service provided 365 days per year. For more information, visit the Proven Data Recovery Services website, call 860-656-6050, or email service(at)provendatarecovery(dot)com.
About Proven Data Recovery Services:
A subsidiary of Congi Enterprises, Proven Data Recovery Services was founded by brothers Victor and Mark Congionti, specialists in full spectrum data recovery. Utilizing proven data recovery methods and resources, the company has successfully recovered lost and damaged data and systems on thousands of previous data recovery cases. All clients and cases are kept strictly confidential throughout the recovery process.
With Offices in Manhattan and Hartford, Proven Data Recovery Services offers qualified data recovery professionals, exceptional customer service, and the highest rate of data recovery in the industry.
###