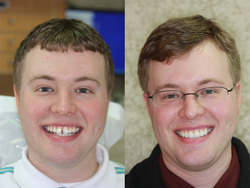 Wellesley, MA (PRWEB) June 5, 2009
The Provisional Restorations in Dentistry DVD is a new DVD produced by Dr. Paul R. Chalifoux, DDS. It introduces new techniques called "Chalifoux Interlocking" to prevent provisional restorations for dental crowns, bridges and veneers from coming off as the permanent restorations are being constructed at a dental laboratory. The Provisional Restorations in Dentistry DVD reviews standard techniques used to construct beautiful provisional restorations for crowns, bridges, the single anterior tooth and veneers. In addition, it teaches advanced techniques to interlock provisionals for extreme retention and techniques for maximum esthetics. The ten videos include a power point presentation reviewing basic concepts of provisionals and nine technique videos. It is ideal for dental students, training auxiliaries and dentists who want to learn advanced techniques.
Heat processed laboratory produced, polycarbonate, bisacryl, acrylic, resin and composite materials are utilized in preformed, matrixed, and relined techniques.
Dr Chalifoux invented Biotemps, The Composite Veneered Provisional, The Dimple Interlock also referred to as permenant reversible fixation, and the Chalifoux Interlock to prevent provisional from coming off. He has published many articles on Provisional Restorations in several leading magazines including the Journal of Prosthetic Dentistry.
Go to http://www.provisionalrestorations.com or contact Paul R. Chalifoux, DDS 781-235-1747 chalifoux (at) comcast (dot) net
Thanks
Paul R. Chalifoux, DDS
277 Linden Street Suite 209
Wellesley, MA 02482
781-235-1747