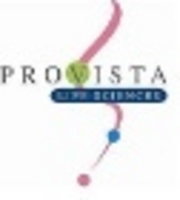 Provista Life Sciences is doing ground breaking work in developing early stage disease diagnostics
PHOENIX (PRWEB) January 3, 2008
"Dr. Kirby adds a tremendous amount of scientific and business expertise to our team," said William Gartner, Provista Life Sciences CEO. "We feel his contributions will be felt immediately and his role in helping us strategically position our company for future growth will be incredibly valuable."
Dr. Kirby brings more than 18 years of drug development and clinical research experience to Provista Life Sciences. He was the founder, CEO and Medical Director of Pivotal Research Centers, one of the nation's largest dedicated clinical research facilities. Dr. Kirby also has served as Principal Investigator in more than 200 sponsored research trials, inclusive of Alzheimer's disease, Parkinson's disease, neuropathic pain and drug development. Under Dr. Kirby, Pivotal Research was instrumental in the Federal Drug Administration's approval of more than 50 drugs.
"Provista Life Sciences is doing ground breaking work in developing early stage disease diagnostics," said Dr. Kirby. "When you are dealing with life-threatening diseases, early diagnosis is important and Provista Life Sciences' focus on cancer and Alzheimer's disease promises to significantly advance therapeutic effectiveness in helping countless lives. I am looking forward to contributing to that effort."
Dr. Kirby obtained his medical degree and specialty training at University of Texas Medical Branch at Galveston, Texas, and is board certified in neurology. He previously served as an Adjunct Professor at Arizona State University and as an Associate Professor at Sun Health Research Institute. He also served as Chief of Staff at Thunderbird Samaritan Medical Center and on the Samaritan Board of Directors. He has numerous publications to his credit, and is a noted speaker having given countless authoritative presentations and guest lectures to pharmaceutical companies and national and international audiences alike.
About Provista Life Sciences
Provista Life Sciences was established in 2006 as a biotechnology diagnostics development and commercialization organization that provides the scientific and operating management resources to rapidly advance the development and introduction of novel diagnostics technologies into the domestic and global marketplace. For more information, visit the company's Web site at http://www.ProvistaLS.com or call 602-224-5500.