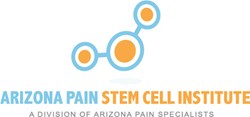 The stem cell injections at Arizona Pain often allow patients to delay or avoid the need for joint replacement!
Phoenix, AZ (PRWEB) November 06, 2013
The top Phoenix stem cell clinic, the Arizona Pain Stem Cell Institute, is now offering multiple types of joint injections to allow patients to avoid the need for a joint replacement. The treatment options include platelet rich plasma therapy, bone marrow or fat derived stem cell injections, and amniotic derived stem cell injection therapy. For more information and scheduling, call (602) 507-6550.
Recent published studies are showing that regenerative medicine injections into arthritic joints and those with cartilage defects are showing excellent pain relief and have the potential to help regenerate some of the arthritic damage.
The Phoenix pain management doctors at the Arizona Pain Stem Cell Institute are Double Board Certified and highly skilled in these outpatient treatments. The stem cell therapies are low-risk and outpatient, with options for treatment existing for the knee, hip, ankle, shoulder and other extremity joints along with the spine as well.
Arthritis affects tens of millions of Americans, with over 1 million joint replacements being performed every year. With joint replacement procedures being like this, the recommendation from the medical community is to undergo considerable attempts at conservative pain management options prior to undergoing surgery.
Unlike the typical pain procedures that mask pain very well but that do not actually alter the course of arthritis, regenerative medicine stem cell therapy procedures have the potential to regenerate cartilage and some of the soft tissues that have degenerated over time.
Arizona Pain Specialists has five locations in the Valley with Board Certified Phoenix pain management doctors, Phoenix chiropractors, acupuncturists and more. Call today at (602) 507-6550.