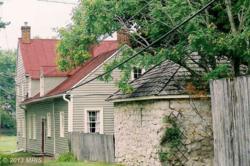 The many artifacts found in and around the home convey that the owner is just the "current steward."
Winchester, VA (PRWEB) June 17, 2013
Prudential PenFed Realty announced today that Kerry Stinson, REALTOR® with its Winchester, Va. office recently listed a historical home in the village of Middleway, West Virginia. The village was first settled in 1729 by the Smith family, incorporated in 1798 as Smithfield, and was later renamed Middleway to avoid confusion with the other Smithfield in Tidewater, Va.
This historical property is located at 7226 Queen Street, and is actively listed for sale by Ms. Stinson for $379,000 (MLS# JF8057483). It is located in the heart of historic Middleway and the property has been lovingly restored, keeping many of the original details. This 4 bed/3.5 bath home has six fireplaces, wide-plank wooden floors and gorgeous gardens. The kitchen, living room and first floor bedroom were all added pre-Civil War.
"When I met with the owner of the property, we spent more than an hour touring the premises. The many artifacts found in and around the home convey that the owner is just the "current steward." What a fascinating home," said Stinson.
The property was built by John Smith in 1750 and the oldest portion of the house (the side that faces Grace Street) was known as Sam Stone's tavern--and serves as the dining room. The front two-story part of the house where the library and front entry room are currently located was an inn during the early 19th century called the Virginia Inn. The home's history also includes a former apothecary or doctor's office on the Queen Street side of the property.
Scenes from The Discovery Channel's documentary entitled, Gettysburg, The Battle and the Address, about President Lincoln and the Gettysburg Address were filmed in the home; as it holds historical relevancy to the events that led to the Address and the end of the Civil War. Both Union and Confederate armies passed through the village during the war, and the "Battle of Smithfield" was fought in and around the village in August of 1864.
"This is an area rich in history and historic homes. The area is steeped in history from pre-revolutionary war times through the civil war. History buffs and lovers of old homes will find many places of interest in our area," said Patsy Williamson, managing broker of Prudential PenFed Realty's Winchester, Va. location.
The Winchester office of Prudential PenFed Realty is located in historic Winchester, Va., and serves a large area of the beautiful and historic Shenandoah Valley as well as the eastern panhandle of West Virginia, including Harpers Ferry and Charlestown. The office has agents familiar with both the history of the area and its historic old homes.
If you are a history buff interested in owning a piece of American history, then check out 7226 Queen Street. One family (the Bates') owned this property for 108 years. Ghost tour fans should also note that the Wizard Clip is a long time resident of Middleway—but that's a story for another day.
For more information on 7226 Queen Street, please contact Kerry Stinson by email at: Kerry.Stinson(at)penfedrealty(dot)com or call 703.577.9560. To see more listings from Prudential PenFed Realty's Winchester office, please visit PenFedRealty.com or call 540.722.9300.
References:
Walking Tour (2013). Middleway Conservancy at http://www.middlewayconservancy.org/walkingtour.htm
History of Middleway (2013). Middleway Conservancy at http://www.middlewayconservancy.org/
About Prudential Real Estate and HSF Affiliates LLC
Prudential Real Estate is a part of the HSF Affiliates LLC real estate brokerage family, which includes Real Living Real Estate and the new Berkshire Hathaway HomeServices brand available later in 2013. Prudential Real Estate franchises are independently owned and operated.
HSF Affiliates LLC, based in Irvine, Calif., is a joint venture of HomeServices of America and Brookfield Asset Management.
Prudential, the Prudential logo and the Rock symbol are service marks of Prudential Financial, Inc. and its related entities and are used under license with no other affiliation with Prudential.
About Prudential PenFed Realty
Prudential PenFed Realty, wholly owned by PenFed (Pentagon Federal Credit Union), is a full-service real estate company with an annual sales volume over $1.7 billion; serving PenFed members as well as the general public. Recognized as a leading real estate company in its service area, it is ranked among the top Prudential affiliates nationwide. Over 1,700 top-notch sales professionals work out of Prudential PenFed Realty's 49 offices to provide complete real estate services in Delaware, Florida, Kansas, Kentucky, Maryland, North Carolina, Northern Virginia, Pennsylvania, Washington, D.C. and West Virginia.
Prudential PenFed Realty is an affiliate of the Brookfield/Home Service Franchise (Formerly Prudential Real Estate) Residential Property Services network. Its franchises are independently owned and operated. The network provides franchises with numerous benefits, including access to Prudential Real Estate's Online Seller Advantage® program designed to provide real-time information to sellers in an easy to use system; and Online Buyer Advantage®, enabling consumers to easily search for property in all 50 states and the District of Columbia. Prudential Real Estate is one of the largest real estate brokerage franchise networks in North America, with more than 1,500 franchise offices and 50,000 sales professionals in the franchise Network as of December 31, 2011.
©2013 BRER Affiliates LLC: An independently owned and operated broker member of BRER Affiliates LLC. Prudential PenFed Realty is an independently owned and operated member of BRER Affiliates LLC. PenFed Membership is not required to conduct business with Prudential PenFed Realty.
***