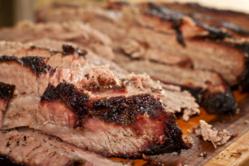 The outstanding culinary offerings of Texas are only part of what make this such a great state to call home.
Dallas, Texas (PRWEB) June 19, 2013
If Texans know one thing about barbecue, it's that nobody in the world can smoke a better cut of brisket than chefs in the Lone Star State. While many have perfected top-secret recipes in the backyards of their Dallas homes, others are champing at the bit—and chewing at the burnt ends—to find the greatest purveyors of barbecued meats that Dallas-Fort Worth has to offer. Thanks to a recent report from Texas Monthly on its prestigious and annual "Top 50 Barbecue Joints in Texas," Prudential Texas Properties is happy to share a list of five of the best barbecue spots in the Big D that made this year's cut.
1. The Pecan Lodge: Those who know Dallas barbecue most likely know the Pecan Lodge. Ranked among the top four barbecue joints in the entire state by Texas Monthly, locals are flocking to this joint to round-up some of the most sumptuous barbecue on the market. And by market, it should be noted that that's literally where this mecca of smoke-ringed goodness is located—within the Dallas Farmer's Market. The Dallas Observer, which has called this place the "Best BBQ in Dallas" two years running, says, "The brisket is so tender that chewing is optional, the smoke is more than evident, the rub is a delight." And as any Texan knows, it's all about the brisket.
2. Lockhart Smokehouse of Dallas: Steeped in decades of tradition—and clouds of billowing smoke—the barbecue at this local favorite is churned out by pitmaster Daniel McLaughlin. Whether you're going for the famous brisket, the lean "shoulder clod," or some dry-rubbed pork ribs smoked to perfection, this place is a must-stop for barbecue enthusiasts in Dallas.
CLICK HERE for a quick Dallas real estate market update.
3. Cousins Bar-B-Q: Cousins name and product prove that when it comes to smoked meats, grammar ain't no thing as long as you can execute on some of the finest barbecue in town, and this place sure does. Started 30 years ago, the brisket and Texas toast are favorites here, and it's no wonder why Dallas homeowners have been coming back for years to bite into this Texas legend.
4. Longoria BBQ: Located in Fort Worth, the Longoria family's outpost is too good to leave off this list. Known for utterly unctuous cuts of some of the finest brisket in the state, this joint also serves its famous brisket burger, not to mention interesting offerings like brisket jerky. In case you didn't get the memo, it's all about brisket in Texas!
5. Hutchins BBQ: A stone's throw away from Dallas in McKinney, Hutchins BBQ touts itself as "the best Texas BBQ this side of the Rio Grande." And the restaurant has become famous for its generous portions, including the $16.59 all-you-can-eat barbecue deal, which may be one of the best bang for your buck deals for chowhounds in the entire Dallas-Fort Worth area.
"The outstanding culinary offerings of Texas are only part of what make this such a great state to call home," says DD Flynn, VP of Marketing with Prudential Texas Properties. "It's our pleasure to serve the Dallas-Fort Worth area. We hope that information like this only entices you to further your search for homes—and amazing eats—in the upwardly mobile markets of North Texas."