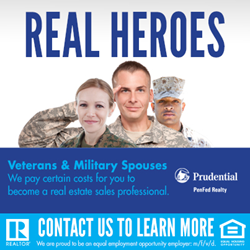 We think this is the ideal opportunity to empower our transitioning military to find fulfilling careers using the discipline and cooperative skills they've honed in service.
Washington (PRWEB) April 02, 2014
PenFed Realty announced today that it is beginning an innovative new career program for the military personnel and their spouses; both active and veteran. This program is intended to cover all costs for these men and women to obtain their real estate license and pursue a career as a PenFed Realty real estate professional.
PenFed Realty could pay up to $2,500 towards the cost of becoming a real estate professional. This includes, but is not limited to, the cost of real estate licensing classes, exams, insurance, and membership in applicable real estate associations. The program is designed to remove the financial barriers that many military service personnel and their families are confronted with when pursuing a successful career in real estate.
"PenFed and its affiliates are constantly looking for ways to reward our country's heroes. We think this is the ideal opportunity to empower our transitioning military to find fulfilling careers using the discipline and cooperative skills they've honed in service," said Shashi Vohra, president of PenFed Realty.
PenFed Realty has long supported the military and their families through a variety of programs and fundraising events. The Dream Makers Grant through the PenFed Foundation has offered assistance to members of the military who want to purchase a home and need funds for a down payment. The Real Heroes Program empowers military servicemen and women to help homebuyers and sellers, both non-military and military, through a rewarding career as a real estate professional with Prudential PenFed Realty.
To learn more about the Real Heroes Program please contact Donna Buchman at PenFed Realty via phone 410.384.9857 or email donna.buchman(at)penfedrealty(dot)com. PenFed Realty is continuing to revolutionize real estate by supporting the communities it serves.
For more information about Prudential PenFed Realty, visit http://www.penfedrealty.com.
About PenFed Realty
PenFed Realty, wholly owned by PenFed (Pentagon Federal Credit Union), is a full-service real estate company with an annual sales volume over $2.8 billion; serving PenFed members as well as the general public. Recognized as a leading real estate company in its service area, it is ranked among the top 25 Prudential affiliates nationwide. Over 1,700 top-notch sales professionals work out of PenFed Realty's 50+ offices to provide complete real estate services nationwide.
PenFed Realty is an affiliate of the Brookfield/Home Service Franchise (Formerly Prudential Real Estate) Residential Property Services network. Its franchises are independently owned and operated. The network provides franchises with numerous benefits, including access to Prudential Real Estate's Online Seller Advantage® program designed to provide real-time information to sellers in an easy to use system; and Online Buyer Advantage®, enabling consumers to easily search for property in all 50 states and the District of Columbia. Prudential Real Estate is one of the largest real estate brokerage franchise networks in North America, with more than 1,500 franchise offices and 50,000 sales professionals in the franchise Network as of December 31, 2011.
© 2014 BRER Affiliates LLC. An independently owned and operated broker member of BRER Affiliates LLC. Prudential, the Prudential logo and the Rock symbol are registered service marks of Prudential Financial, Inc. and its related entities, registered in many jurisdictions worldwide. Used under license with no other affiliation with Prudential. Equal Housing Opportunity. We are proud to be an equal opportunity employer: m/f/v/d.