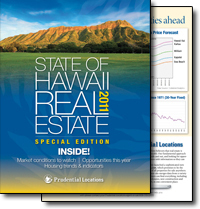 We view 2011 as a year of recovery and stabilization; this sideways market offers incredible opportunity for the buyers and sellers that understand the full spectrum of influencers on Hawaii's real estate market.
Honolulu, HI (PRWEB) April 4, 2011
Prudential Locations, Hawaii's largest locally owned and operated real estate company, just published its annual "State of Hawaii Real Estate" report – a comprehensive and easy-to-read document that shares expert insight into the Hawaii real estate market. Readers will be enlightened on the complete picture of Hawaii's unique market, with penned topics ranging from neighborhood market trends and investment opportunities to key economic indicators that influence market velocity as well as the current stance in today's real estate cycle.
"Our 2011 'State of Hawaii Real Estate' report reveals that the worst may be over for Oahu's housing market," said Prudential Locations' president and chief executive officer, Bill Chee. "We view 2011 as a year of recovery and stabilization; this sideways market offers incredible opportunity for the buyers and sellers that understand the full spectrum of influencers on Hawaii's real estate market."
Prudential Locations' "State of Hawaii Real Estate" report is free and available for download at http://www.prudentiallocations.com/oahu-real-estate-report.aspx
According to the "State of Hawaii Real Estate," the forecast through 2016 is for Oahu prices to remain relatively flat over the next few years, and then gradually increase to previous peak levels. Because neighbor islands are driven by second-home resort purchases, prices saw a much deeper dip than Oahu, however they too are returning to normalcy.
HAWAII REAL ESTATE TRENDS
Market Conditions: The main economic drivers in Hawaii's market conditions include interest rates, subprime mortgages, unemployment and tourism. Fortunately – interest rates still remain historically low and Honolulu avoided the huge subprime boom, unlike many other major U.S. cities. Hawaii's unemployment rate sits relatively low at 6.3 percent, compared the national average of 9 percent. The single most important factor in Hawaii's economy is tourism and visitor numbers are seeing an impressive comeback. However, due to the recent earthquake and tsunami in Japan, it remains unclear what the full impact will be.
Neighborhood-to-Neighborhood: In 2010, prices in one-third of Oahu's communities were down (32 percent), while the majority of neighborhoods saw price increases (68 percent). Prudential Locations stresses the importance of understanding the "little picture," the fact that each individual neighborhood in Hawaii behaves in a different way, each influenced by a distinctly unique set of market conditions and buyers.
Cyclical Pattern: Since the 1970s, there have been three clearly defined cycles of Hawaii real estate trends – each lasting around 10 years. With each one, prices double from the previous cycle and after the spike, there is a period of sideways movement. We are currently in the stabilizing phase of this cycle and will remain here for a few years.
HAWAII REAL ESTATE OPPORTUNITIES
Investments: This sideways cycle is a perfect time for investors to reposition their portfolios. For example, the market supports selling an underperforming rental and replacing it with another one that is easier to rent or provides a stronger return on investment.
Neighbor Island: Maui condos are down 16 percent since 2009 and 31 percent since 2005, and condo prices on Kauai down 18 percent and 37 percent respectively. The drop in neighbor island pricing makes it especially inviting for buyers looking at the resorts market.
Interest Rates: Astute consumers understand that interest rates offer a much more profound impact on affordability than price. Today's interest rates are the lowest they have been in 50 years, providing benefit to all buyers moving up or downsizing, first timers and investors. Sellers benefit from this as well because there are more qualified buyers – increasing the market velocity.
Prudential Locations firmly believes that real estate is the best way to build long-term wealth. Its fundamental approach includes knowing the market inside and out, and looking for opportunities – empowering consumers with information so they can make smarter decisions. The newly launched website http://www.PrudentialLocations.com offers the most comprehensive listing of Hawaii properties anywhere, including detailed information on more than 1,000 specific neighborhoods statewide.
NOTE TO MEDIA: Prudential Locations' 2011 "State of Hawaii Real Estate" report is available online and by request. Prudential Locations' executives are available to comment on the report and on real estate market trends in general. Please call Monica Salter at 808-265-0073 for media requests.
About Prudential Locations
Prudential Locations LLC is a multi-faceted real estate company with a rich kama'aina tradition in the islands of Hawaii that boasts four decades of extensive local experience and connections to offer its clients. To benefit customers, the Prudential Locations website, http://www.PrudentialLocations.com, shows every home, land, condo and real estate listing on Oahu, Maui, Big Island, Kauai, Molokai, and Lanai, with detailed property information to assist its clients. By being a leader in real estate market research and knowledge and continually training more than 240 real estate agents, Prudential Locations produced more than $1 billion in sales in 2009. Prudential Locations Hawaii is ranked in the top four percent of all Prudential Real Estate affiliates. Recently it earned the distinction of Hawaii's top brokerage firm for both transactions and sales volume by the RIS 2008 Power Broker Survey and REALTOR® Magazine's national Top 100 list. Prudential Locations was established in 1969 with offices and affiliates throughout the state, and is an independently owned and operated member of the Prudential Real Estate Affiliates, Inc.
# # #