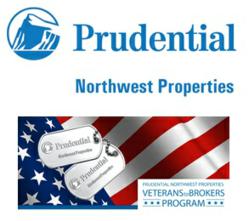 Through the new Veterans to Brokers program, the company will reimburse the major startup costs new brokers incur...
Portland, OR (PRWEB) December 06, 2012
Prudential Northwest Properties is pleased to announce the launch of a new program designed to help veterans become licensed real estate professionals. Through the new Veterans to Brokers program, the company will reimburse the major startup costs new brokers incur, including licensing class expenses, exam fees and standard first year association dues, which can reach up to $2,300 or more.
Jason Waugh, President & CEO of Prudential Northwest Properties, said, "We're implementing this program because we appreciate the sacrifice our veterans make to serve our country and we want to do what we can to help them in return. The discipline, commitment and hard work veterans put forth in the military are all traits that would serve them well in the real estate industry. The men and women that serve our country deserve an opportunity to create a rewarding career when they return to civilian life, and we want to help them achieve that."
The Prudential Northwest Properties' Veterans to Brokers program is the first of its kind in the company's marketplace, which covers northern Oregon and southwest Washington.
To learn more about the Veterans to Brokers Program, please call 800-547-1982 or email careers(at)prunw(dot)com.
About Prudential Northwest Properties
Founded in 1948, Portland-based Prudential Northwest Properties is a proud member of HomeServices of America, Inc., a Berkshire Hathaway affiliate, and a flagship franchisee of the Prudential Real Estate and Relocation Services network. Recognized as a market leader and one of the most progressive real estate firms in the nation, the company is one of the largest home service providers in the Pacific Northwest. The company ranks as one of the top brokerages in North America for delivering client satisfaction, based on independently measured client feedback, and is also a Corporate Philanthropy Award recipient, named one of the five most generous medium-sized companies in Oregon. Prudential Northwest Properties is one of a select number of brokerages invited to join the new Berkshire Hathaway HomeServices real estate brand when it launches in 2013. To learn more, please visit http://www.prunw.com.