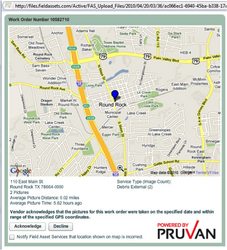 "Pruvan has taken the subjectivity out of the equation and we now have the certified, objective record we've always wanted. Pruvan reduces costs, improves quality, and delivers at lightning speed!" Dale McPherson, President, Field Asset Services
Austin, TX (PRWEB) June 7, 2010
Pruvan, a leading service record technology provider, today announced the release of Pruvan 1.0, a new photo management solution for asset managers, field service providers, inspectors and appraisers responsible for the completion of fieldwork for mortgage servicers and government agencies. Designed to make the work order management process faster and more seamless, Pruvan 1.0 offers an easy-to-use interface in addition to innovative GPS-certification and time-stamping functionality allowing field crews and office staff to simply and quickly upload, sort and manage proof of performance photos.
Field Asset Services (FAS), the nation's leading provider of property preservation and maintenance services to the mortgage industry, started using Pruvan 1.0 in early 2010 to streamline their proof of performance process. Averaging 500,000 photos per day (over 12 photos per second at peak usage) with over 1500 simultaneous users, Pruvan 1.0 has transformed the way FAS manages their field forces, the work they do, and the documentation of this work for their customers.
"Pruvan's solution is an ideal combination of smart technology applied to a cumbersome and subjective process," said Dale McPherson, Chief Executive Officer of Field Asset Services. "Pruvan has taken the subjectivity out of the equation and we now have the certified, objective record we've always wanted. Pruvan fires on all cylinders for FAS – reduced costs, improved quality, and lightning speed!"
Proof of Performance Done Right
Unlike current photo management solutions that are time consuming and error-prone, Pruvan's approach streamlines the challenging process of matching thousands of field photos to work orders by making it faster, easier and more accurate through its unique GPS-certification and time-stamping capabilities. With Pruvan, asset managers, field service providers, inspectors and appraisers can:

View work as it occurs in real-time.
Capture start and finish time of work crews at job sites to record when and where work was done.
Contextualize photos instantly to existing work order management systems.
Retrieve any photo from any job instantly with a variety of search options.
Automatically match thousands of photos to the correct property or work orders.
Quickly inspect, tag, move and upload photos into client browsers.
"A long-time vendor for FAS, we've been using Pruvan for several months," said Shane Steele from Greener Gardens Estate Management. "The software has been very useful, fast, and efficient. Best of all, it's making life easier for myself and my staff."
Customization and Flexibility Reduces Costs and Increases Performance
Minutes mean dollars in today's economy. With a user-friendly interface designed to be branded to fit into an organization's existing work order management system, Pruvan 1.0 requires minimal adoption time with a quick learning curve for employees. In addition, Pruvan software has been created to work with applications for the PC, MAC, iPhone and other smartphones allowing it to be easily accessed from anywhere with Internet connectivity.
"Pruvan 1.0 is a revolutionary new solution created to overcome the complexities and challenges associated with proof of performance reporting," said Paul Palmer, President of Pruvan. "The features and functionality that have been built into Pruvan 1.0 will enable organizations responsible for the completion of fieldwork for mortgage servicers or government agencies to have a more reliable, accurate work order management system. Pruvan can reduce operational costs and increase productivity. This is a powerful combination in today's market."
For more information about Pruvan's solution and how it can transform your work order management system, please visit http://www.pruvan.com. Attendees of REO Expo can visit Pruvan in booth #212.
ABOUT PRUVAN
Pruvan is transforming proof of performance reporting for the field services industry. With the development of an enterprise scale, comprehensive and simple to use solution, Pruvan is enabling service providers to more easily and efficiently manage their field crews, the work they complete, and the required documentation for the customer. Pruvan's solution can dramatically reduce operational costs and workload improving productivity and organizational efficiency. Pruvan is privately held and headquartered in Round Rock, TX. For more information, please visit http://www.pruvan.com.
# # #