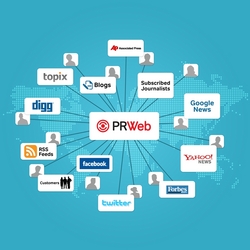 Our digital marketing services business, GateList, is on pace to be the most successful product launch in the history of our newspaper
Lanham, MD (PRWEB) January 12, 2011
Vocus announced today a partnership with Hearst Media Services Bay Area that includes the San Francisco Chronicle and SFGate.com, which will augment the digital marketing services it offers to local businesses in the San Francisco market with PRWeb. Hearst Media Services Bay Area, through SFGate.com, offers Web-based advertising services including pay-per-click (PPC) search, social media, mobile and online video through its new GateList division and has added PRWeb releases into its existing package of services.
PRWeb has signed a number of publishers recently as news content distribution partners, but this venture is unique in that Hearst Media Services Bay Area will resell PRWeb releases as part of a packaged service. More than 80 percent of PRWeb's existing customers are small- and medium-sized businesses that use the news distribution service to drive traffic, leads, online visibility and search engine optimization (SEO). The new offering packaged under GateList provides local businesses with an integrated suite of products aimed at both paid and earned marketing opportunities.
"We were looking for an additional product in our mix that would help our customers gain a strategic advantage in the marketplace," said Mark Adkins, president of the San Francisco Chronicle/SFGate.com. "Our digital marketing services business, GateList, is on pace to be the most successful product launch in the history of our newspaper. We have the right product mix, with the right partners, which is driving results for our customers."
PRWeb provides custom feeds of original and editorially reviewed content to partnering publishers such as SFGate.com, FinancialContent and the StreetInsider.com. PRWeb is different than traditional news wire services because of its Web-centric approach to content development and distribution. PRWeb connects content producers with consumers directly through search, including Web search, image search, and blog search among others.
The service also enables small businesses to connect with customers and prospects through higher ranking search results and new media. For example, it was among the first to integrate Twitter with a feature called TweetIt, which allows users to pre-schedule posts to Twitter to coincide with the publication of their news release. PRWeb also integrated video content from YouTube and has developed new media distribution partners, such as Photobucket and Zemanta which enhance image search results and provides a non-intrusive and relevant way for users to reach the blogging community. These features and partnership advantages will be available to customers in San Francisco that choose a marketing package through GateList.
"Hearst Media Services Bay Area is introducing a transformative business innovation during a period of time that's been challenging for the publishing industry," said Bill Wagner, senior vice president and COO with Vocus. "More importantly, it's a service offering that ties in new media channels and provides the small business owner with an integrated mix of products proven to deliver value."
About PRWeb
PRWeb is recognized as a leading online news and press release distribution service worldwide. Since 1997, PRWeb has been changing the way businesses, marketing departments and public relations firms think about press releases. PRWeb was the first company to develop a distribution strategy around direct-to-consumer communication and to build and offer a platform for search engine optimized press release distribution. PRWeb is an online news distribution service of Vocus, Inc., a leading provider of on-demand public relations management software. For more information, go to http://www.prweb.com.
About Vocus
Vocus, Inc. (NASDAQ: VOCS) is a leading provider of on-demand marketing and PR software. Our web-based software suite helps organizations of all sizes to fundamentally change the way they communicate with both the media and the public, optimizing their visibility and increasing their ability to measure its impact. Our on-demand software addresses the critical functions of earned marketing including media relations, news distribution, news monitoring and social media. We deliver our solutions over the Internet using a secure, scalable application and system architecture, which allows our customers to eliminate expensive up-front hardware and software costs and to quickly deploy and adopt our on-demand software. Vocus is used by more than 30,000 organizations worldwide and is available in seven languages. Vocus is based in Lanham, MD with offices in North America, Europe and Asia. For more information, please visit http://www.vocus.com or call (800) 345-5572.
About Hearst Media Services/Bay Area
In addition to the vast resources of the San Francisco Chronicle and SFGate.com, Hearst Media Services/Bay Area provides every thing from social media campaigns to search engine marketing to direct mail and e-mail advertising. Whether targeting customers based on behavior, demographics and geography or using the broad reach of Hearst Media Services products to reach 1.9 million Bay Area adults each week, advertisers can find all their marketing solutions in one, easy-to-implement place.
This release contains "forward-looking" statements that are made pursuant to the Safe Harbor provisions of the Private Securities Litigation Reform Act of 1995. These are statements that are predictive in nature, that depend upon or refer to future events or conditions, or that include words such as "may," "will," "expects," "projects," "anticipates," "estimates," "believes," "intends," "plans," "should," "seeks," and similar expressions. This press release contains forward-looking statements relating to, among other things, Vocus' expectations and assumptions concerning future financial performance. Forward-looking statements involve known and unknown risks and uncertainties that may cause actual future results to differ materially from those projected or contemplated in the forward-looking statements. Forward-looking statements may be significantly impacted by certain risks and uncertainties described in Vocus' filings with the Securities and Exchange Commission.
The risks and uncertainties referred to above include, but are not limited to, risks associated with possible fluctuations in our operating results and rate of growth, our history of operating losses, interruptions or delays in our service or our Web hosting, our business model, breach of our security measures, the emerging market in which we operate, our relatively limited operating history, our ability to hire, retain and motivate our employees and manage our growth, competition, our ability to continue to release and gain customer acceptance of new and improved versions of our service, successful customer deployment and utilization of our services, fluctuations in the number of shares outstanding, our ability to integrate acquisitions, foreign currency exchange rates and interest rates.
###