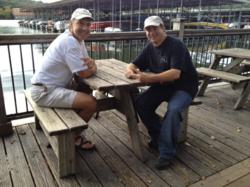 We're just a couple of regular guys trying to inspire others to help in their own way.
Austin, TX (PRWEB) October 23, 2012
"Be Greater Than You (B>U)" founders Matt Evans and Richard "Bee" May from Austin, TX hope the 'B>U' brand will remind people every day to do something better than they did the day before. If each individual applied this philosophy then collectively the world would become a better place to live. Or so the premise goes.
BGreaterThanU.com, which launched its website today, features individuals who epitomize the B>U philosophy through their own inspirational stories. The website and feature stories hope to inspire other individuals to follow their example to be greater than themselves. For those who embrace the B>U philosophy, the founders hope people will buy into the concept with a shirt to display their adoption of the B>U philosophy.
Evans and May from Austin, TX created the company with little money and in the spare time from their full time jobs. Each had a "gut feeling" that people do care about the world they live in and want to join a community of like-minded individuals.
"The B>U image came to me about 5 years ago," remarks Evans. "It bounced around in my head for a while, and became my own personal reminder to be greater than myself. After sharing it with my friends, including Bee, it seemed to resonate with people."
"We started to brainstorm about a year ago to try to figure out a way to make it into something that might actually make a difference in the world. So here we are, trying to be greater than ourselves by embarking on this new business adventure. We hope the logo, brand and philosophy will inspire others to join the evolution and be greater than themselves."
BGreaterThanU.com features individuals such as Vivian Saunders in North Carolina who created "The Hive" where former gang members learn technology to enter the workforce. And Pablo Acevedo from Columbia, Venezuela who competed in the iron man competition to help raise money for CURE Epilepsy in honor of his son David who suffers from epileptic seizures. BGreaterThanU.com currently features 18 inspirational stories that epitomize the B>U spirit. Evans and May hope the launch of the website will bring in hundreds of more stories.
"We're just a couple of regular guys trying to help in our own way by trying to help inspire others to help in their own way. We're trying to create a fun, inspirational website and brand that unites all in this philosophy," states May.
The B>U brand is a logo that is currently promoted on shirts and caps for those individuals who believe that a better self can make a better world. The shirts and caps can be bought on their website, BGreaterThanU.com.
About B>U:
B>U (Be Greater Than You) promotes the evolution of each individual taking small steps in a positive direction. A greater self creates a greater world. BGreaterThanYou.com features those individuals who best represent the B>U philosophy. Read the inspirational and whimsical stories of featured B>U people or submit your own B>U story at BGreaterThanU.com.