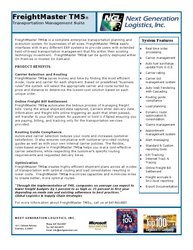 Our services plus software model enables clients to have better visibility and access to detailed information that they ordinarily wouldn't have in house, we're extremely honored to have this recognition
Inverness, IL (Vocus) September 29, 2008
Next Generation Logistics, Inc., a leading provider of managed freight services, TMS software, and supply chain consulting announced today it is named to the Food Logistics Top 50 3PL providers. The Top 50 3PL is a listing of third-party logistics providers that are helping food, beverage and CPG companies gain a competitive logistical advantage. Food Logistics goal with the Top 50 3PL listing is to highlight a broad range of 3PL services targeted at the food industry, addressing the needs of companies of varying sizes that make up the food supply chain.
"Next Generation Logistics, Inc. has successfully managed to provide a unique blend of services and TMS software, leveraging our expertise with sophisticated technology to ensure our clients freight spend remains low and service levels high," said Paul Pultorak, Vice President, Supply Chain Operations. "Our services plus software model enables clients to have better visibility and access to detailed information that they ordinarily wouldn't have in house, we're extremely honored to have this recognition" says Pultorak.
About Food Logistics
Food Logistics is the only publication exclusively dedicated to covering the movement of product throughout all channels of the supply chain. Food Logistics serves the information needs of food, beverage and consumer packaged goods executives involved in warehousing, transportation and information technology, as well as third-party and refrigerated service providers. Through our print and online products, we provide news; trends and best practices that help more than 25,000 grocery and foodservice suppliers, distributors and retailers make better business decisions. http://www.foodlogistics.com.
About Next Generation Logistics, Inc.
Next Generation Logistics, Inc. is a leading Managed Freight Services, TMS Software, and Supply Chain Consulting provider. For the past 20 years, NGL has worked with companies in the Food & Beverage and Consumer Products Industries, recommending and implementing proven repeatable concepts, strategies, and software technology that drive down costs and improve operating efficiencies within their customers supply chains. http://www.nextgeneration.com
###