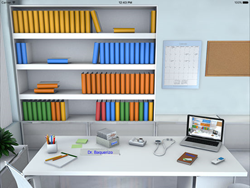 The ability to access, update and maintain patient records by different healthcare providers, will allow better-coordinated patient care. With PatientRounds, patients can avoid repeating tests when visiting different MDs
San Diego, CA (PRWEB) February 13, 2017
PatientRounds for iPad, a cloud-based, encrypted, HIPAA compliant, Electronic Medical Records for healthcare professionals has been officially launched in the iTunes store. With a simplified and elegant user interface that doctors are already familiar with, PatientRounds provides an easy, efficient, and secure access to patients' medical history and vital information anytime and everywhere.
PatientRounds has a host of features that make creating, storing and accessing patient information simple, streamlined and effective. The main features include: creating and managing patients' information, allergies, history and diagnosis; monitor, review and write patients' results; review and write accurate and safer medication; create, view and edit progress notes and orders, and log patients' communications.
"The templates and customized phrases will allow completing notes in a very efficient manner, reducing errors and repetition of routine tasks, and allowing physicians to spend more quality time with patients," said Angeles Baquerizo, founder of PatientRounds.
This revolutionary medical tool also enables doctors to share patient charts with other health professionals, allowing the transfer of patient care between healthcare providers, facilitating the coordination of care, and ultimately improving the quality of patient care.
"The ability to access, update and maintain patient records by different healthcare providers, will allow better-coordinated patient care. With PatientRounds, patients can avoid repeating tests when visiting different MDs," said Baquerizo.
A secure and robust cloud-based platform with capabilities for data storage, back-up, and disaster recovery will ensure data integrity.
PatientRounds is available for your iPad in the iTunes store. For more information, visit http://www.medappsab.com.
About:
Angeles Baquerizo, MD, PhD, FACS a Board Certified Transplant Surgeon founded MedAppsAB to bring patient care into the digital era.
Dr. Baquerizo received her medical degree, and general and digestive surgery degree from the University of Cordoba, Spain. After completion of her surgical training, she obtained a tenured position at the University of Cordoba (Professor Titular), where she practiced general surgery and transplantation. She holds a PhD in surgery (transplant immunology) from the University of Cordoba, and is the recipient of the prestigious Fulbright Scholarship. In 1995, she moved to the United States, and completed a fellowship in multiorgan abdominal transplantation at the University of California, Los Angeles (UCLA) and a general surgery residency at the University of Southern California (USC). Currently she works at the Scripps Center for Organ Transplantation in La Jolla, USA