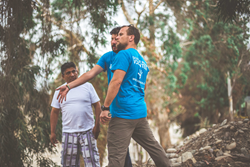 "Thousands of volunteers have already contributed in this emergency and I am sure that thousands more will join."
MATTAPOISETT, MA (PRWEB) April 04, 2017
All Hands Volunteers, the leading disaster relief organization powered by volunteers, is responding in Peru following the catastrophic flooding that has devastated the nation in recent weeks.
Since December 2016, Peru has suffered from continued rainfall which by the beginning of February, had intensified to such an extent that 24 of the 25 suffering regions were further affected by landslides, floods, flash floods and mud flows. The devastation has been deadly and widespread, with the latest reports listing 101 deaths and over 950,000 people affected. The north of the country continues to see unpresented rainfall, inundating both major towns and villages.
The Peruvian Ministry of Women and Vulnerable Populations (MIMP) leads the coordination of volunteer efforts. Thousands of volunteers have already contributed in different areas, specifically in the donation collection centers. The Peruvian Government House served as one such center and more than 3,000 volunteers contributed to this effort.
At the request of CARE Perú and with their support and that of private companies, All Hands Volunteers mobilized their assessment team and, through MIMP, began working to do what they ultimately do best – coordinate volunteer efforts in an active natural disaster zone.
"All Hands Volunteers will always seek to identify the greatest needs and adapt our response accordingly," said Sherry Buresh, Director of Volunteer Coordination for All Hands Volunteers. "In this case, there was a significant need for the coordination of thousands of good-willed volunteers, something we have extensive experience of. We are honored to have received such a request for assistance in Peru."
All Hands Volunteers is currently focusing its coordination efforts in Piura, a city to the far north of Lima that is still deemed an active disaster zone and under a state of National Emergency. Here, the organization is coordinating spontaneous volunteers, setting them to work in the affected areas while simultaneously training team leaders and local organizations in the art of volunteer coordination.
"The strength of nature will not win the solidarity of Peruvians," said Nancy Lange, Peruvian First Lady. "Thousands of volunteers have already contributed in this emergency and I am sure that thousands more will join."
A separate branch of All Hands Volunteers is concurrently hard at work in the badly affected town of Huarmey. Having found the education sector to be in great need of assistance, both local and international volunteers are busy cleaning out affected schools and setting up temporary learning centers for over 1,100 school children whose classrooms remain meters deep in mud.
About All Hands Volunteers:
Since its founding in 2004, All Hands Volunteers has responded to 79 disasters worldwide, including Hurricanes Katrina and Sandy, Typhoon Haiyan in the Philippines and the devastating earthquakes in Nepal in 2015.
All Hands Volunteers has enabled over 39,000 volunteers to help more than 500,000 individuals impacted by natural disasters all over the world and has received Charity Navigator's highest 4 Star Rating.
For further information, visit http://www.hands.org
HOW TO HELP:
IF YOU ARE IN PIURA and available to help, go to the Volunteer Reception Center (Real Plaza, Av Sanchez Cerro 234, Piura) to register - opening hours are 9am to 8pm, daily.
IF YOU WANT TO HELP IN HUARMEY, you can apply to volunteer here: https://www.hands.org/projects/perufloodresponse/
Those who want to support All Hands Volunteers' efforts in Peru can make a donation at http://www.hands.org/donate.