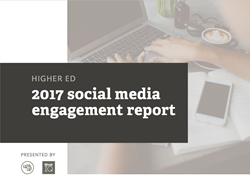 "We listen, respond, and engage with our audience in efforts to match the enthusiasm of our campus, community, and the Lumberjack spirit on social media" -Maria DeCabooter, social media strategist at NAU
Seattle, Washington (PRWEB) June 27, 2017
Rival IQ, the leader in social marketing analytics and insights, and Up&Up, a leading marketing agency for higher education, today announced the results of their second annual report on the effectiveness of social media across leading Division I universities in the United States through the "2017 Higher Ed Social Media Engagement Report." The study of 338 Division I colleges and universities reveals key insights and industry performance benchmarks across popular social media channels–including Twitter, Facebook, and Instagram–and who is driving the most social media engagement. The report also ranks universities based on rates of engagement, illustrating which schools are most successful at engaging their audiences via social.
To create the report, Rival IQ leveraged their software to analyze 316k tweets, 170k Facebook posts, 79k Instagram posts from 338 Division I colleges and universities between August 2016 through May 2017. Using their expertise in marketing for higher education, Up&Up provided higher ed industry averages, ranked colleges and universities for social media engagement, and highlighted social media best practices in higher ed.
The top 5 overall colleges and universities for social media engagement are:
Northern Arizona University
University of South Carolina
James Madison University
University of Dayton
U.S. Military Academy
"Our social media presence is an extension of Lumberjack life," said Maria DeCabooter, social media strategist at Northern Arizona University. "Social media changes all the time, but great content remains the core element of our social strategy. We listen, respond, and engage with our audience in efforts to match the enthusiasm of our campus, community, and the Lumberjack spirit on social media. We're honored to be recognized as the top performing university for social media engagement. It's a testament to all the people with whom we work who help share the Lumberjack story."
"The report shows that clear best practices exist for higher ed social media," said John Gallagher, head of marketing at Rival IQ. "Driving engagement with alumni, students, fans, and the community can be done effectively regardless of a school's size. A good social strategy can yield immediate and positive results."
The complete list of 338 colleges and universities is available in the full report along with real, detailed examples of top-performing content from higher ed institutions illustrating social media best practices for Twitter, Facebook and Instagram in higher ed. James Madison University, ranked #8 on Facebook and #3 overall, is highlighted for a willingness to not take themselves too seriously. Their social marketing mantra is exemplified by a video post featuring the President and Senior VP of Student Affairs doing an episode of Car Karaoke for fundraising efforts.
Colleges, universities, students, alumni, fans and supporters looking to check their universities' ranking may download the whitepaper at https://www.rivaliq.com/resources/2017-higher-ed-social-media-engagement-report/.
Contact:
Danica Benson
Rival IQ media(at)rivaliq.com
About Rival IQ
Rival IQ's powerful software helps digital marketers boost performance, strengthen strategy, make better informed content decisions, and improve their social media engagement using clear analytics and competitive insights. For more information, visit http://www.rivaliq.com, call +1.206.395.8572, or follow us on Twitter, LinkedIn, and Facebook.
About Up&Up
Up&Up is a higher education marketing agency in Greenville, SC. We create brand experiences, marketing strategies, and creative to lift colleges & universities above the noise. Our work helps the perfect student find you, engages alumni like never before, and drives giving to new heights. We believe connecting the right student to the right school not only provides a perfect college experience, it makes them fans for life. This isn't marketing for the next four years, it's marketing for the next forty.