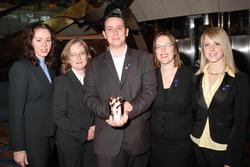 We are thrilled that the efforts of Carnival UK and its Care Team volunteers have received such a prestigious honor
Atlanta, GA (Vocus) October 11, 2008
The Family Assistance Foundation congratulates Carnival UK's Southampton based Care Team for winning a prestigious National Customer Service Award.
The award, sponsored in part by the Institute of Customer Service, celebrates the effect and impact of excellent customer service on the consumer and businesses in the United Kingdom. Carnival UK's award was presented for Outstanding Customer Service Team of the Year – Recovery Situation.
The Carnival UK Care Team is one of several Care Teams run in association with the Family Assistance Foundation to provide a network of support for cruise passengers, families and staff in the event of an incident while at sea.
"We are thrilled that the efforts of Carnival UK and its Care Team volunteers have received such a prestigious honor," said Carolyn V. Coarsey, co-founder of the Family Assistance Foundation and President of the sister organization, The Family Assistance Education & Research Foundation. "Though the efforts of Care Team members are rewarded every day by the individual expressions of gratitude from the people they assist, it speaks volumes that a national organization devoted to promoting customer service excellence has recognized that there is no time more important than a crisis for companies to demonstrate leadership and compassion."
For the past several years, the Family Assistance Foundation, together with Aviem International, has been working in collaboration with Cruise Line International Association, Inc. (CLIA) to improve emergency and disaster response practices and customer service industry-wide. To date, more than 4,000 employees and crews within the cruise industry have received varying levels of Care Team training to improve guest care for passengers who experience trauma while on a cruise.
Most recently, this specialized training has been expanded to ensure passengers receive the same level of care while shore side by providing training for port agents who support cruise lines in ports around the world. The next Port Agent training is scheduled in Trinidad/Tobago at the Florida-Caribbean Cruise Association Conference on October 27, 2008.
As a result of these highly successful programs, the Family Assistance Foundation and Aviem are now working together to apply the Foundation's research to develop similar service-oriented programs for customer relations personnel to ensure that, should a customer not receive the service they expect, their complaints and suggestions are heard and responded to effectively and properly.
The Family Assistance Foundation, Inc. is an independent non-profit corporation founded in 2000 for the purpose of empowering people following tragedy. Its mission is to support and improve business and industry responses to emergencies and disasters. The Foundation takes a unique, research-based approach to helping organizations successfully meet the needs of survivor's (customers, affected families, employees, any member of the public impacted) by coordinating and mobilizing resources during the acute phase of a crisis and beyond.
Foundation education and training programs support members by monitoring the long-term outcomes of those impacted by tragedy. Promoting awareness and building skills and knowledge for those who are charged with responding are crucial elements of the Foundation's fully integrated training and support programs for business and industry.
For more information, please visit http://www.fafonline.org.
###