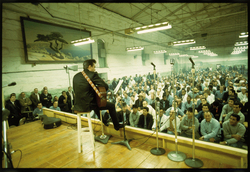 New York, NY (Vocus) October 15, 2008
Song BMG and Legacy Recordings released Johnny Cash's 'At Folsom Prison, Legacy Edition', on October 13 and only local Folsom, California, websites have the first listen streams from the new box set.
It is only fitting, since the show took place in Folsom prison, that three local Folsom sites, My Folsom (http://myfolsom.com/), The Folsom Telegraph (http://www.folsomtelegraph.com) and Folsom Life (http://villagelife.com/) should have first listen streams to '25 Minutes To Go', 'I Got A Woman' (with June Carter) and 'Folsom Prison Blues.'
Johnny Cash's At Folsom Prison, Legacy Edition, a 40th anniversary 2-CD and DVD box was recorded on January 13, 1968, when Johnny Cash and his crew – June Carter (two months before their wedding), Columbia staff producer Bob Johnston, Carl Perkins, the Statler Brothers, and the Tennessee Three (guitarist Luther Perkins, bassist Marshall Grant, drummer W.S. "Fluke" Holland), rolled into northern California's notorious maximum security lockup and gave a performance that changed Cash's career arc and the future of popular music.
Forty years later, the Cash archives in Tennessee continue to dazzle researchers with their riches. In fact, as rarely known by even the most ardent fans, and rarely mentioned in Cash writings until now – there were two Folsom shows performed and recorded that day: The first show, the bulk of which comprised the classic, familiar 16-song album; and a longer second show, the bulk of whose 26 tracks (except for two songs) were put on the shelf.
JOHNNY CASH AT FOLSOM PRISON: LEGACY EDITION has been a long time coming, indeed. The revealing three-disc (2 CD+DVD) close-up of that day now presents the entire unvarnished 65-minute first show on disc one – expletives intact for the first time, and with seven previously unissued tracks; and the entire 75-minute second show on disc two, with 24 previously unissued tracks (out of 26). It's topped off with a new documentary DVD – featuring exclusive footage from inside Folsom, interviews with Merle Haggard, Rosanne Cash, Marty Stuart, and former inmates who witnessed the concert, and unpublished photography by Jim Marshall.
http://www.JohnnyCashOnline.com
http://www.LegacyRecordings.com
###