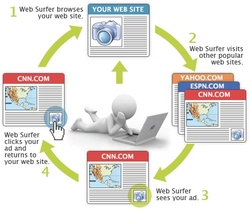 Retargeting works for one simple reason. The people that visit your site are the people interested in what you have to offer. Retargeting allows you to target ads directly to those who visit your website with frequency and unmatched efficiency.
Palos Verdes Peninsula, CA (PRWEB) August 26, 2010
Even as the economy continues to evoke fears of nightmares, two new businesses launched within the past year have teamed up to provide mattress consumers sweet dreams. Create-A-Mattress, http://www.Create-A-Mattress.com , has selected Recrue Media, http://www.RecrueMedia.com , as their online retargeting advertising partner to provide mattress shoppers unique and relevant ad messaging, in addition to a good night's sleep.
These two companies are each in growth industries despite the recession. According to The International Sleep Products Association, bedding unit sales in June were up 12.6% from the same month last year and the dollar value was up 13%. That's good news for Create-A-Mattress owner Evan Saks. "We're in an industry that's positioned well for growth, especially as it relates to online shopping. Create-A-Mattress brings high quality products, low pricing, simplicity, and convenience to the shopping experience for consumers who bring that 'buy mattress online' mentality," said Saks.
Nonetheless, one of the most challenging aspects of forming a new company is building brand awareness. Saks explained, "When mattress shoppers first come to the site, they might not be familiar with our brand, which can lead to reluctance. Recrue Media makes so much sense for building awareness and brand values to overcome that reluctance."
Recrue specializes in retargeting advertising technology. Already a staple with large online retailers, retargeting is now emerging as an advertising tool for small to medium sized businesses. In the past year various forms of online retargeting advertising have emerged as companies are looking to more efficiently reach their target audiences.
The retargeting (also known as remarketing) process begins with a shopper visiting an advertiser's website. Research has shown that many visitors to even the most successful websites leave without taking any action like making a purchase. As each visitor surfs to other websites, banner ads from the advertiser's site they just visited are shown to them. Those banner ads direct the visitor to more information about the advertiser's site, and can even present specific information about the pages and that were viewed. The value of online retargeting to an advertiser is its tremendous efficiency. Banner ads are only exposed to visitors qualified as interested in your site by virtue of the fact they have previously visited, without paying for exposures to the masses. Upon clicking the banner ads, these warm prospects are brought back to the site, which results in substantial increases in conversion.
According to Mark Landon, Principal and Affiliate Operations Director for Recrue Media, "Retargeting works for one simple reason. The people that visit your site are the people interested in what you have to offer. Retargeting allows you to target ads directly to those who visit your website with frequency and unmatched efficiency. It's a perfect strategy to stay top of mind with your shoppers."
Creatively, online retargeting allows e-tailers to precisely target banner ads to the specific interests of each individual shopper. For instance, if a visitor has viewed a queen size memory foam mattress, banner ads can be presented with specific messages and offers related to queen size memory foam mattresses. It's a highly personalized, highly efficient marketing message.
In addition to ecommerce sites, Recrue Media specializes in online retargeting advertising for employee recruitment, college recruitment, and political advertising. These channels continue to evolve as companies, colleges and politicians up for re-election seek to build direct relationships to prospective employees, students, and voters. Each of these areas has a common theme: the advertiser is looking to build a one to one relationship with their web visitors.
Recrue Media claims the largest network of sites on which the banner ads are displayed of all of the retargeting companies reaching over 90% of all Internet users in the United States. This enables Recrue Media clients to find virtually all of their customers regardless of their surfing habits. The Create-A-Mattress banner campaign is running in August 2010.
About Recrue Media, LLC
Recrue Media, LLC specializes in online retargeting campaigns for retail, employment, education and political campaigns. Recrue Media delivers and measures through quality partners who represent the best technology and applications in the online advertising industry including Open X and Quantcast. Recrue Media is a privately held, Los Angeles based Company.
About Create-A-Mattress, LLC
Create-A-Mattress is the first and only made-to-order mattress website where consumers can choose the materials, features, softness and other dimensions to create the perfect mattress for 20%-40% less than chain stores. Mattresses are made in a famous brand factory to the highest quality standards, with national "white glove" delivery in 14 days or less.
About Mark Landon, Principal and Co-Founder, Recrue Media
Prior to launching Recrue Media, Mark was President of Landon Media Group, a national advertising sales operation managing several high profile industry concerns, including Recruitment Marketplace and Movie Marketplace. At Recrue, Mark develops and manages the affiliate partnerships with retail, employment focused advertising agencies and national corporate employers.
###