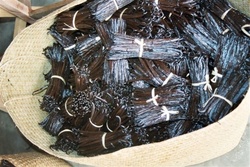 and make the presentation really pop when entertaining during the holidays
Fort Collins, CO (Vocus) September 16, 2010
Rodelle, a leading extracts company in Fort Collins, Colorado claims all vanilla is not created equal. With the commencement of holiday cooking season in September, vanilla beans are at the top of hot ingredient trends. According to Dan Berlin, VP of Business Development, vanilla beans will take any dish from mundane to gourmet with a simple slice and scrape. "Using high quality vanilla beans will enhance any holiday dish from easy oatmeal to more labor intensive vanilla bean cheesecake," stated Mr. Berlin.
Vanilla beans are a great way to enhance any dish and add European gourmet elegance. Most baking recipes call for vanilla extract. However, when the bean is added with the extract, the vanilla flavor bursts through even more especially in crème brule, frozen vanilla bean custard, decadent vanilla bean hot cocoa and easy to make pancakes. "The bean flecks are "icing on the cake" and make the presentation really pop when entertaining during the holidays," said Joe Basta, VP of Sales and Marketing.
Splitting vanilla beans are certainly a lot easier than most cooks think. Using a small peering knife, slice the bean down the center and with the back of the knife and scrape to remove the seeds.
Rodelle has created a demo video to show just how easy it can be.
Vanilla is one of the most popular and ancient sweet flavors in the world and the only fruit produced by an orchid. Discovered in Mexico in the sixteenth century, for over 400 hundred years, vanilla has seduced the world with its delicious aroma and beautiful flowers. From explorers and scientists, to doctors, queens and the common folk, vanilla has intoxicated the masses.
Vanilla is a very special ingredient that takes a lot of tender love and care to cultivate, nurture into pure, rich flavor and process for extraction (for more information visit http://bit.ly/cfknbz). When cooking and baking with vanilla beans, one can easily expand their culinary repertoire and delight family and friends over the holiday season with its intoxicating magic.
For more information contact Andrea Ridder at 970-818-1922.
###