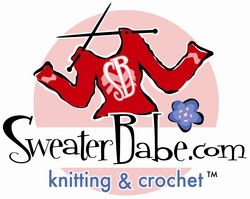 Sexy, stylish knitting patterns for today's modern knitters!
Beverly Hills, CA (PRWEB) September 30, 2010
Knitting patterns "on demand" are now available from http://www.SweaterBabe.com, the online home of knitting pattern designer, Katherine Lee. Her chic and sexy sweater, hat, scarf, and accessories knitting pattern projects are popular sellers worldwide as instant PDF downloads from her SweaterBabe.com web site, which also features her knitting blog, and a Yarn Shop Directory, one of the largest online.
Knitting patterns fashioned for today's stylish, discerning knitters are the specialty at SweaterBabe.com. Fun, up-to-date and chic knitting patterns for sweaters, scarves, hats, purses, and accessories, are designed exclusively for the web site by Los Angeles-based knitting designer, Katherine Lee.
Stylish, Sexy and Free Knitting Patterns
The SweaterBabe.com web site offers visitors a wide variety of knitting patterns, both for beginners as well as intermediate and advanced knitters seeking new projects. The patterns are available for easy and instant download in the popular PDF format, with prices ranging from free to $8.00. (Subscribers to her free SweaterBabe.com Knitting Patterns email list even get monthly free knitting patterns offers!)
The SweaterBabe.com Knitting Patterns Club
Fans of SweaterBabe's fashionable knitting styles can get the best deals on the latest patterns by joining the SweaterBabe.com Knitting Patterns Club at http://sweaterbabe.com/knitting-pattern-club.htm. This fun online community shares Katherine's latest design each month as a free knitting pattern for its members, plus a 24/7 community forum where the SweaterBabe herself answers knitting and crochet questions from members.
Yarn Shop Directory
SweaterBabe.com also boasts the best Yarn Shop Directory on the web. Yarn Shops from across the USA and Canada are listed online at http://sweaterbabe.com/directory.php so knitters can find the best suppliers for their knitting pattern hobby.
Contact
For the latest on knitting patterns and knitting style trends, please contact Katherine Lee of SweaterBabe.com at info(at)sweaterbabe(dot)com.
###