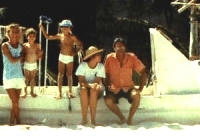 Jules Siegel has no problems speaking out honestly on some touchy subjects. His latest story is "The straight poop on using drugs in Cancun, Mexico."
(PRWEB) October 4, 2010
Tim Sissel's Cancun and Riviera Maya websites are among the area's highest ranking sites because of their up-to-the-minute news and information posted by local resident and frequent visitors. In addition to the hugely popular forum sections, Sissel is now featuring entertaining and informative coverage by celebrated journalist Jules Siegel (Playboy, Esquire, Rolling Stone) who has lived and worked in Cancun with his family since 1983.
Siegel (author of the Cancun User's Guide, first published in 1995 and now in its fifth edition) has no problems speaking out honestly on some touchy subjects. His latest story is "The straight poop on using drugs in Cancun, Mexico". He reports, "A concerned reader, who understandably wishes to remain anonymous, writes: "I know about the new drug law in DF. But I've received conflicting information about its effect on tourists in Cancun and the Riviera Maya. I don't know if I would get in trouble smoking a joint on the beach, on my patio at the Royal Resorts, or any hotel in Cancun and the Riviera Maya, or while having a beer at Calypso's (good cantina at Plaza Parilla). So, what's the story, both de jure, and de facto?"
Siegel replies with his usual sardonic bite, "The question of using drugs in Cancun is such a touchy subject that I am inclined to tell this person to just go try it and report back. This may result in incarceration and other inconveniences, but at least we will have a definitive answer. Except we won't, even if we send individuals to each of those locales and have them fire up their doobies. The results will depend on the time of day, the position of the moon and irrational factors such as whether or not the chambermaid is a religious fanatic suffering from severe PMS, or the security agent had an intractable fight with some very significant other or authority figure this morning."
Then he follows with detailed factual information about the new Mexican drug laws (not very encouraging, he says) and very prudent advice based on interviews with people in the position to know (basically, don't take any chances, but if you have to smoke grass, be cool and don't call attention to yourself).
Siegel also answers the often asked question, "Is Cancun safe for travelers?" ("Short answer: yes. Long answer: definitely yes! It is one of the safest places on the North American continent, with an overall murder rate of about 4.5%, and a tourist murder rate almost too small to measure. We get around three million visitors a year in Cancun itself, but less than 500 crimes are reported annually in the Hotel Zone police station. Not all of them involve tourists.") Unlike some sensationalist writers on this topic, Siegel relies on detailed statistics and opinions from reliable sources.
In other stories, he covers "Shopping for basic foods in Cancun," "Cancun Supermarkets, "Finding an affordable meal in the Cancun Hotel Zone," Selecting Wine in Cancun and "Five must-see places in Cancun Mexico.
Site publisher Tim Sissel comments, "Jules Siegel's work is yet another reason why Cancun.MX.com and CancunAndRivieraMaya.com are your best windows to the Mexican world of Cancun, Cozumel, Playa del Carmen, Isla Mujeres, Akumal, Puerto Aventuras, Tulum, Puerto Morelos and the complete Mayan Riviera. We know Cancun and the Riviera Maya better than many locals because these sites are mainly developed by long time vacationers to the area. So sit back and let us share what we have found about this Mexican paradise!"
###