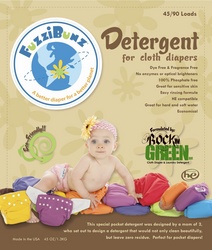 The new FuzziBunz Diaper Detergent has been tested by hundreds of moms, many who have struggled with soap-scum, cloth diaper stink, and residue build-up caused by other so-called cloth diaper detergents
Lafayette, LA (PRWEB) October 7, 2010
FuzziBunz® cloth diapers today announces at the 8th Annual ABC Kids Expo in Las Vegas its new FuzziBunz Diaper Detergent, specially formulated by popular cloth diaper detergent manufacturer, Rockin' Green.
Tereson Dupuy, the founder of the first modern cloth diaper, FuzziBunz, and the woman who started the modern cloth diapering movement, says she is thrilled to be able to offer this popular detergent to FuzziBunz customers.
"Rockin' Green offers an amazing cleaning agent that leaves no soap-scum residue and leaves diapers so clean and fresh. FuzziBunz Diaper Detergent was carefully formulated by Rockin' Green to ensure we are only offering the best cleaning solution to anyone using and washing FuzziBunz's award-winning diapers along with any other cloth diaper made with fleece too," says Dupuy.
She adds, "The new FuzziBunz Diaper Detergent has been tested by hundreds of moms, many who have struggled with soap-scum, cloth diaper stink, and residue build-up caused by other so-called cloth diaper detergents."
Kim Webb, founder of Rockin' Green adds, "We have taken special care to come up with a formula that works extremely well for FuzziBunz cloth diapers and that gets them clean and fresh without any residue build-up or synthetic chemicals or scents. Plus, FuzziBunz Diaper Detergent can cut through minerals and hard water like no other and uses only biodegradable, eco-friendly ingredients… period!"
FuzziBunz Diaper Detergent will be available for pre-sale at the ABC Expo. It is unscented.
For more information about FuzziBunz Diaper Detergent, please visit http://www.fuzzibunz.com.
About FuzziBunz®
The patented FuzziBunz® pocket diapers are a convenient and sustainable diapering solution for today's busy parents. The reusable diapers ensure no leaks, no rash and no waste. FuzziBunz® diapers include three layers: 1) a waterproof outer barrier to keep wetness contained, 2) a soft microfleece inner layer that touches a baby's skin and pulls away moisture, and 3) a unique, pocket-style opening that enables a parent to customize the absorbency using super absorbent micro-terrycloth pads. Stay-at-home-mom, Tereson Dupuy, invented FuzziBunz® in January 1999 in response to her infant son's chronic diaper rash and her overall dissatisfaction with all available diapers. Tereson stitched the first FuzziBunz® in her home and a short time later, the FuzziBunz® diapering movement was born. For more information about FuzziBunz® cloth diapers and accessories and to find a list of retailers, please visit http://www.fuzzibunz.com.
# # #