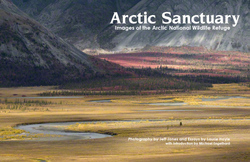 Arctic Sanctuary: Images of the Arctic National Wildlife Refuge
Santa Barbara, Calif. (Vocus) October 26, 2010
The 50th Anniversary of the Arctic National Wildlife Refuge and the release of "Arctic Sanctuary: Images of the Arctic National Wildlife Refuge" by photographer Jeff Jones (University of Alaska Press, September 15, 2010) occur during a renewed spate of controversy about drilling in ANWR heating the dispute on both sides of the issue. Jones's book captures in stunning imagery exactly what is at stake in the debate.
Jones's original images from the book, some as large as 16 feet wide, will also be showcased in U.S. Fish and Wildlife Service's nation-wide traveling exhibition celebrating the 50th Anniversary of the Arctic National Wildlife Refuge.
Jones says, "The purpose of the book is to celebrate our shared natural heritage. There is no question that people want wild places to exist. This sentiment unites us. Americans want their wild places to be healthy, vital and free of interference from our modern civilization. There is a feedback loop. Choices people make in their every day lives affect the health and vitality of the very things they value. Choices such as what's my carbon foot print, what choices do I make as a consumer. My purpose was to document what is there, and it is up to the individual to draw their own conclusions."
Art Wolfe host of public television's "Art Wolfe's Travels to the Edge" says, "In Jeff Jones's masterly landscapes of the Arctic, I find a majestic peace and a powerful call to action to protect this sanctuary of wildlife and wildness. This book beautifully showcases a pristine land caught in the crosshairs of the greatest of human calamities, including global climate change and the grim search for energy resources."
About the book:
After numerous all-season adventures across several years, renowned photographer Jeff Jones offers an unprecedented glimpse into a vast wilderness most people know by name, but few will ever visit. "Arctic Sanctuary: Images of the Arctic National Wildlife Refuge" (University of Alaska Press, September 15, 2010) is a stunning pictorial odyssey guided by Jones's well-developed vision and accompanied by Laurie Hoyle's lyrical essays.
Spanning more than 19 million acres – an area roughly the size of South Carolina – the Arctic National Wildlife Refuge is the largest and best known of the more than 500 wildlife refuges in the United States. It is the only national conservation area with a complete range of arctic ecosystems: coast, tundra, mountains, taiga, and boreal forests, as well as a network of 18 major rivers, two of North America's largest lakes, and warm springs that support a wide variety of plant species unique to the Arctic region. The refuge is also home to the most diverse population of wildlife in the circumpolar north, including polar, black, and grizzly bears, caribou, Dall sheep and golden eagles. With no known introduced species, the refuge provides scientists an exceptional baseline for study of undisturbed ecozones and natural processes.
About the Making of the Book:
Because the refuge prohibits roads and trails, Jones traveled by bush plane, river raft, snow mobile and on foot (backpacking and base camping), often enduring weather extremes and rugged camping conditions. Continuous light that prevails from late April to mid-August, and sun obscured by the horizon from mid-November to mid-January, provided interesting lighting conditions throughout the year; during summer months, Jones literally worked around the clock. Traveling in winter with an Inupiat guide, Jones dealt with sub-zero temperatures via multiple layers of clothing and frequent consumption of fat-rich, high calorie meals (think bagels fried in bacon fat and caribou sandwiches). Manipulating camera equipment in such extremes required ingenuity and forethought to prevent malfunctions caused by moisture or ice crystals. As a precaution, he traveled with multiple camera bodies and stowed equipment in padded and insulated containers when navigating rough terrain. He often warmed hard drives used to store his digital images by placing them under his parka to absorb body heat. In summer, he used a portable solar panel to power his electronic equipment and charge batteries.
Summer months presented other challenges such as mosquitoes obscuring his lens, thunderstorms with gale force winds, and fires caused by lightening strikes.
Despite recurring challenges, Jones captured an extraordinary set of landscape photographs. Arctic Sanctuary: Images of the Arctic National Wildlife Refuge depicts the pristine, majestic wilderness that is relatively whole, ecologically intact, untamed by technology, free from major human development, and still driven by ancient evolutionary energies. Jones's important body of work has the potential to raise awareness about the Arctic National Wildlife Refuge and inspire continued preservation and stewardship for generations.
About the Arctic Sanctuary Exhibition:
The Arctic Sanctuary photo exhibit will be on display in the gallery at the University of Alaska, Anchorage - Consortium Library through November 15, 2010, at the Well Street Art Co in Fairbanks, AK beginning December 2, 2010, at the National Conservation Training Center in Shepherdstown, WV in January 2011, and at the Bruce Museum in Greenwich, CT in spring 2011.
For more information visit http://www.lumnos.com.
# # #