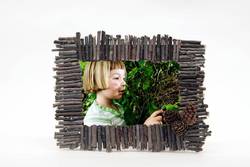 Skip the cheese, posed photos look still and awkward
Reston, VA (Vocus) December 6, 2010
It's time for the family holiday card photo. The National Wildlife Federation says taking pictures of your kids for the card isn't that different than taking photos of wildlife, lots of squirming and subjects looking the wrong way. You don't have to have special skills to photograph your children well, you know them best and this intimate knowledge will be a huge help.
National Wildlife Federation has these photo tips to recommend:

No Portrait studio can beat Mother Nature – Green backgrounds, fresh air and natural light bring spontaneous smiles to your children's faces.
Skip the "cheese" – Posed photos look stiff and awkward and don't capture the moment. Back up and just watch. Let the kids do their thing and be ready to click when the time is right;
Shift the focus – Sometimes you can capture the moment by not focusing on your children – Put some treasure they have found in the foreground and their face in the background or partially visible.
Capture relationships - too often photos of your children alone don't' tell the whole story – looks for moments with siblings, cousins, friends and parents or grandparents.
Get a speedy camera - Don't let the prize moment pass you buy. Put your camera on "sports" mode which usually has a faster shutter speed so you can catch those action shots. Increase the odds of getting a great shot by taking lot of photos.
Don't be afraid to get down on the ground to capture your child's perspective on the world. Or climb higher to capture the action from above.
Get double duty from your kid's photo. Use it for your holiday card and then frame it as a gift for grandparents and other family members. Instead of subjecting your kids to crowds and lines at the mall, let them head outside to "shop" for the picture frame. A twig picture frame is a unique and personal gift that will be appreciated because it has the homemade touch. The kids will get some much-needed fresh air and their gift from nature will contain something that lasts long after the holidays are over.
What You Need:

Inexpensive wooden picture frame with flat sides
Twigs from the yard or nearby park
Tacky glue
Small pinecones, seeds or acorns
What You Do:
1. Break the twigs into small pieces (grown-ups can use pruning shears if the twigs are too thick to break by hand)
2. Apply glue to one side of the frame. Press some twigs onto the glue. Keep adding glue and twigs until you have covered all sides of the frame. A hot glue gun will work.
3. Once the glue had dried, you can decorate the frame with pine cones, seeds, or any other treasure you have collected outside. Use twigs from different kinds of trees to give your frame interesting colors and textures.
Now that the frame is done, fill it with the photo of your children enjoying the outdoors. It will be enjoyed by all who see it.
For other fun family holiday ideas check out http://www.nwf.org/family
Media Contact:
Mary Burnette
Burnette(at)nwf(dot)org
703-438-6097
###