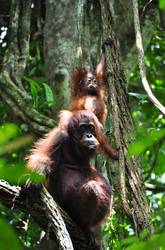 As leaders in wildlife conservation, AZA-accredited zoos are dedicated to the protection of these intelligent and charismatic animals
Silver Spring, MD (Vocus) December 13, 2010
The Association of Zoos and Aquariums (AZA) Ape Taxon Advisory Group (TAG) today announced a critical new campaign to sustain a future for one of the planet's most imperiled group of animals— apes.
For apes—bonobos, chimpanzees, gorillas, orangutans, gibbons and siamangs—the outlook in the wild is bleak. Given catastrophic population declines, it is estimated that some ape species will be extinct within 20 years. The Ape TAG Conservation Initiative, supported by nearly 40 zoos, will fund 8 field conservation projects, one for each of the great ape species and two for gibbons and siamangs.
"As leaders in wildlife conservation, AZA-accredited zoos are dedicated to the protection of these intelligent and charismatic animals," said Dr. Tara Stoinski, Ape TAG chair. "The Ape TAG Conservation Initiative will elevate the role of zoos in the international conservation community."
The Arcus Foundation, a leading great ape conservation philanthropic organization, provided a generous matching grant to the funds contributed by zoos to the Initiative. Participating zoos have committed to a minimum of three years of support, which is critical for conservation projects to be effective in saving these species.
The 8 projects were selected by an international committee of Ape TAG and AZA members as well as outside ape conservation experts. The Initiative increases the number of zoos contributing to projects in the wild, strengthens support for community education and local law enforcement in countries with wild apes, and provides zoos with resources to demonstrate their commitment to saving apes.
"We are pleased that the AZA community is supporting field projects such as ours," said Dr. Marc Ancrenaz, director of The Kinabatangan Orang-utan Conservation Program, and principle investigator of one of the projects awarded funds by the Initative. "The problems faced by wild populations of great apes are complex and because of this, zoos have an increasingly important role to play."
"We hope that AZA institutions will further support our efforts in the field by helping zoo visitors and the general public understand how our consumer choices are also essential to ensure the long-term survival of great apes and to secure their habitat," Dr. Ancrenaz added.
"Ape TAG Conservation Initiative will significantly contribute to Uganda's effort to establish a standardized chimpanzee health monitoring protocol and build local veterinary capacity for disease management," said director of the Budongo Conservation Field Station (BCFS), Dr. Fred Babweteera. "The support from the Initiative is a distinctive manifestation of the strategic and critical role of zoos in promoting science and in-situ conservation."
"We are absolutely honored to have been selected by the Ape TAG Conservation Initiative, and incredibly pleased that our work in the Ketambe region of northern Sumatra will be receiving funding assistance for at least the next three years. This sort of sustained multiple year funding is essential," said Dr. Panut Hadisiswoyo, founding director of the Orangutan Information Center, another grant recipient.
The following projects were funded by the Ape TAG Conservation Initiative with a total of $411,250:
Establishment of a National Chimpanzee Disease and Health Monitoring Programme based at Budongo Conservation Field Station
Dr. Fred Babweteera, Dr. Fabian Leendertz and Dr. Tony Kidega, Budongo Conservation Field Station; Uganda
The Bonobo and Congo Biodiversity Initiative: Preserving the bonobo (Pan paniscus) in the Salonga National Park through holistic conservation
Gay Reinartz and Patrick Guislain, Bonobo & Congo Biodiversity Initiative; Democratic Republic of Congo
Combating Illegal Wildlife Trade in Central Africa
Ofir Drori, The Last Great Ape Organization (LAGA); Cameroon
Protection and monitoring of Grauer's gorillas, Gorilla beringei graueri, in the lowland sectors of Kahuzi Beiga National Park
Andrew Plumptre and Richard Tshombe, Wildlife Conservation Society (WCS); Kahuzi Biega National Park, Democratic Republic of Congo
Assessing chances of survival of the orang-utan in man-made landscape: the future of the species?
Dr. Isabelle Lackman, Dr. Marc Ancrenaz, and Ahbam Abulani, HUTAN (Kinabatangan Orang-utan Conservation Program – KOCP); Sabah, Borneo, Malaysia
Ketambe Reforestation and Ecotourism Development Initiative (KREDI)
Panut Hadisiswoyo, Yayasan Orangutan Sumatera Lestari – Orangutan Information Centre (OIC); Sumatra, Indonesia
Long-term ecological research and conservation of Cao Vit gibbon in China
Fan Peng-Fei, Institute of Eastern-Himalaya Biodiversity Research, Dali University; Bangliang Nature Reserve, P.R. China
Population mapping of gibbons Kalimantan, Indonesia: Correlates of gibbon density and vegetation across the species range
Marie Hamard, Dr. Vincent Nijman and Dr. Susan Cheyne, Busang River Initiative for Nature Conservation and Communities (BRINCC) and School of Social Science and Law, Oxford Brookes University, Orangutan Tropical Peatland Project and Wildlife Conservation Research Unit, University of Oxford; Central Kalimantan, Indonesian Borneo
In addition to the eight projects, a percentage of the Gold and Platinum level funds are dedicated for ape sanctuaries in Africa and Asia. Sanctuaries play an important role in ape conservation, particularly through their efforts in law enforcement and conservation education.
Zoos supporting the Ape TAG Conservation Initiative include:
Platinum Supporter ($10,000 per year): Calgary Zoo, Botanical Garden & Prehistoric Park, Columbus Zoo and Aquarium, Denver Zoological Gardens, Oklahoma City Zoological Park, San Diego Zoo Global
Gold Supporter ($5,000 per year): Cleveland Metroparks Zoo, Dallas Zoo, Riverbanks Zoo and Garden, Sedgwick County Zoo, Zoo Atlanta
Silver Supporter ($1,000 per year): Ape Conservation Effort, Audubon Institute, Bronx Zoo, Buffalo Zoo, Cameron Park Zoo, Cincinnati Zoo and Botanical Garden, Disney's Animal Kingdom, Ellen Trout Zoo, Fresno Chaffee Zoo, Gladys Porter Zoo, Gorilla SSP, Houston Zoo, Jacksonville Zoo and Gardens, Knoxville Zoo, Lincoln Park Zoo, Little Rock Zoo, Memphis Zoo, Milwaukee County Zoological Gardens, New England Chapter of American Association of Zookeepers, North Carolina Zoo, Rolling Hills Wildlife Adventure, Sacramento Zoo, San Antonio Zoo, Toledo Zoo, Toronto Zoo, Virginia Zoological Society, Woodland Park Zoo, Zoo Miami/Zoological Society of Florida
Additional single year support for the Initiative was received from: El Paso Zoo, Lion Country Safari, Zoo Boise, and a generous matching grant from the Arcus Foundation.
Photo captions: Julianna and her toddler Felicity, taken within the secondary forest of the Kinabatangan Wildlife Sanctuary in Malaysian Borneo. Photo by HUTAN/Dzulirwan @ Jolirwan bin Takasi
Preserving the bonobo in the Salonga National Park through holistic conservation. Photo by Bonobo and Congo Biodiversity Institute
Founded in 2000 by Jon Stryker, the Arcus Foundation is a leading global foundation
advancing pressing social justice and conservation issues. Specifically, Arcus works to advance LGBT (lesbian, gay, bisexual and transgender) equality, as well as to conserve and protect the great apes. The Arcus Foundation works globally and has offices in Kalamazoo, Mich., New York City and Cambridge, UK. To learn more, visit http://www.arcusfoundation.org.
Founded in 1924, the Association of Zoos and Aquariums is a nonprofit organization dedicated to the advancement of zoos and aquariums in the areas of conservation, education, science, and recreation. Look for the AZA logo whenever you visit a zoo or aquarium as your assurance that you are supporting a facility dedicated to providing excellent care for animals, a great experience for you, and a better future for all living things. The AZA is a leader in global wildlife conservation, and your link to helping animals in their native habitats. To learn more, visit http://www.aza.org.
###