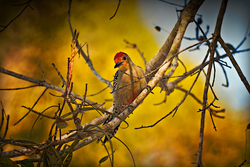 We're looking for nature's statement of life and celebration!
(PRWEB) December 22, 2010
An Active Red-bellied Woodpecker! Down in the Everglades Latham Media Services (LMS) working on the first photo research expedition of 2010. These photos were taken on the third day of research in the Everglades. Specifically, the site was the welcome center at the main entrance. Traffic in the parking lot was fierce with lots of human activity that didn't phase the woodpecker!
Latham Media Services (LMS) specializes in nature photography! Life on the wild side! LMS is a beginning photography adventure on the road looking for that comforting photo that brings a unique peace, happiness, and pleasure to your home or office. LMS is not looking for the bizarre, not even looking for that once in a lifetime photo of nature but LMS is looking for nature's statement of life and celebration.
The Red-bellied Woodpecker is pretty common, just hard to capture because they're so elusive and active. For more information go to http://www.lathammediaservices.com.
Lathammediaservices.com shows the event and lathammediaservicesblog.com tells the story, about that life and how LMS got the pictures. The main objective is for nature lovers to invite Latham Media Services into their home or business through our lens via the photos and merchandise they purchase. So, join Latham Media Services (LMS) in nature's celebration!
###