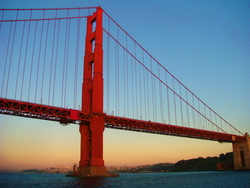 Universe Day is a no-ownership, no-egos, get-the-message-out-now viral event. Imitate it, adapt it, improve it, and even steal it if it means that its message is quickly adopted to build a more sustainable future.
Sausalito, CA (PRWEB) December 30, 2010
Universe Day is an annual event each January 1st facilitated by Universe Spirit, a non-profit organization committed to realizing that all are citizens of the universe. Universe Day seeks to take a leap where Earth Day leaves off…into the vast cosmos.
The message behind Universe Day is derived in part from the wisdom of Albert Einstein who said, "We cannot solve our problems with the same thinking we used when we created them." As most people are aware, the challenges faced on a worldwide scale (climate change, war, pollution, nonsustainable environmental degradation, the global economy...) have serious consequences. Rather than merely feeling overwhelmed by the challenges facing the planet, the impetus behind Universe Day is to expand how one thinks about them, energizing a broader perspective, and shifting lives in alignment toward universe-informed solutions.
"Similar to Earth Day events, individuals and organizations all over the planet are encouraged to self-organize their own Universe Day and meet-ups to forward the Universe Day message. Universe Day is a no-ownership, no-egos, get-the-message-out-now viral event. Imitate it, adapt it, improve it, and even steal it if it means that its message is quickly adopted to build a more sustainable future." says Lawrence Wollersheim, one of the originators of the Universe Day message.
"The Universe and progressive evolution is responsible for our physical existence. We are in it right now, and it is in us. It is the most physically dominant and invisible factor controlling all life and everything around us, " says Wollersheim. "With recent innovations in astronomy, we've discovered more factual knowledge about the cosmos in the past 20 years than all of human history, and our ability to accumulate this knowledge is accelerating. This is not a small change. Humanity is now working on a much larger playing field."
The message of Universe Day isn't just the bellwether of a visionary perspective; it is also focused on showing how evolutionary science and its principles can help individuals work together to meet the tremendous challenges of our times. For starters, this requires the practicality and hard work involved in building a more sustainable environment for succeeding generations, especially in an era when issues such as access to clean water and the unregulated use of non-renewable resources affect nearly everyone on the globe. This is why Universe Spirit has been partnering with Sustainable World Coalition to spread education geared toward sustainable solutions to planetary challenges.
Why does Universe Day land on January 1st? Celebrating the New Year is a time spent by many to reflect on the previous year, and examine how they want to live in the up-coming year. Celebration is a way to energize intentions. Mark Twain said, "Never trust your mind when your imagination is out of focus." How might one shape their New Year's Resolutions when the biggest possible perspective of the whole Universe is in focus?
What will happen this Universe Day? The Universe is waiting...
Universe Day San Francisco Event:
Universe Day San Francisco is promoting the 2nd annual Universe Day event on January 1st, 2011 on a solarized boat in Sausalito. This is an opportunity to come together and inspire one another other at the beginning of the New Year and sail around the beautiful San Francisco Bay. To RSVP, please email the Event Coordinator Suzie at suzie.xvii(at)gmail(dot)com
Not in the San Francisco Bay Area?
Join in for the live Ustream webcast from the boat, RSVP at Universe Day Channel and join in on January 1st, starting from 3pm PST, and again at 8pm PST for a live performance by Caroluna at Universe Day Channel
Universe Day International invites everyone to self-organize and create their own local events from wherever they are. "Like" Universe Day International on Facebook, and share thoughts and New Year's Resolutions under the "Discussions" tab. Global ideas are welcomed that engage the levels of self, community, planet, and universe.
More Information:
Register via email at http://www.theuniverseday.org to receive announcements about upcoming opportunities & events. Sign up before January 7th and receive the link to a free online course on Sustainability from Universe College. This course features the Sustainable World Coalition Sourcebook, a sweeping overview of the major global issues, realistic solutions, and actions to take to be part of the solution.
For more information: Contact Peggy at press(at)universespirit(dot)org
About Universe Spirit: Universe Spirit a non-profit organization educating about how universe consciousness, the Universe Worldview, universe citizenship and Universe Spirituality are used to create a just, prosperous and sustainable world.
About Sustainable World Coalition: The mission of the Sustainable World Coalition (SWC) is to produce educational events and materials that support a socially just and environmentally healthy world. SWC is a project of Earth Island Institute, a 501c3 non profit organization.
About Sustainable World Sourcebook: Used in the Free Online Course, the SourceBook is a sweeping overview of the major global issues we face, realistic solutions, and actions that we can take to be part of those solutions. The book is concise and in full color throughout, with a well designed user friendly layout, so that it is a compelling read, containing 100 pages of essential information on the critical challenges that humanity faces and lots of "What You Can Do" tips and pointers for specific action steps and personal engagement. The introduction is by the brilliant Paul Hawken, and the book has been endorsed by luminaries like Marianne Williamson, Randy Hayes, Lynne Twist and Kevin Danaher, among others.
###