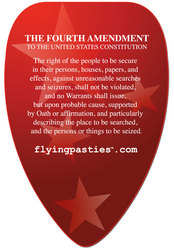 It's not every day you're compared to a Pet Rock and have a chance to help humanity
Las Vegas, NV (PRWEB) January 5, 2011
"We originally thought of our product as a gag gift or protest against full body scanners," says Tim Baurer, award-winning Art Director, Clothing Designer, Entrepreneur and Inventor, and the man behind Flying Pasties™. "But after our initial launch, we received dozens of emails from concerned citizens about the functionality of the product. They wanted something that actually prevented an invasion of their very personal privacy. Our second-generation product does just that. Now air travelers can prevent screeners from seeing them naked, fight the system and show the TSA the American spirit is alive and well, all with their tongues firmly planted in their cheeks."
The new Flying Pasties TM incorporate funny and provocative graphics like 'Only My Husband Sees Me Naked,' 'Objects in Pasties are Larger Than They Appear,' 'Only My Civil Union Partner Sees Me Naked' and 'What Happens Under Here, Stays Here,' a favorite in Las Vegas. Other pasties feature images of roosters, kittens and cow udders while the most popular pastie spells out the Fourth Amendment. A "Ron Paul" pastie is also in the works.
"But Flying Pasties TM have a serious purpose. They not only protect your privacy, they offer triple protection of your private parts from any radiation that may be generated by the scanners," adds Mike Francis, company spokesman. " That's why hits on http://www.flyingpasties.com have exploded and
we've been featured on CNN, Fox News, MSNBC, NBC's Today Show and the Wendy Williams Show."
"Thanks to the proliferation of full body scanners in airports and soon in courtrooms, stadiums and other
public venues, we've created an entirely new industry with Flying Pasties TM, and fill a real need," said
Tim Baurer.
"What we do know about full-body scanners is that you can wear whatever you want to try and evade the prying eyes of the TSA—heavy wool sweaters, pleather pants, and even the finest vicuña coat—but the machines will display all your naughty bits to whoever is on duty." says Heather Shanholtz, Flying Pasties TM model. "Sorry TSA. No more free shows at the airport!"
In addition to Flying Pasties TM, Tim Baurer is also the owner of a highly successful swimwear and fitness company called Fiu Fiu! (http://www.fiufiu.com). He designs many of the site's most popular clothing styles.
Fiu Fiu! has been highly successful in the fitness/apparel industry for almost ten years, achieving a five-star Yahoo! customer store rating and been featured in Sports Illustrated (si.com), FLEX, Musclemag, American Curves and Planet Muscle magazines, MTV and The Howard Stern Show, and been named a 'Top Pick' by Oxygen Magazine.
To contact Flying Pasties TM,
Michael Francis Spokesperson
702 400 0833
flyingpasties(at)yahoo.com
OTHER NOTABLE HAPPENINGS FROM FLYING PASTIES TM:
Recently, several celebrities, including Baywatch actress Donna D'Errico and reality TV star Khloe Kardashian, have spoken out about the TSA's new invasive scanning procedures. If one of Donna's or Khloe's representatives would like to contact Flying Pasties TM, we'll send them a free pair.
FREE priority shipping on all orders (US only).
Flying Pasties TM and Fiu Fiu! will share a storefront at the Emergency Arts Building, Downtown Las Vegas starting in February 2011. Emergency Arts 520 Fremont Street Las Vegas, NV 89101 - (702) 300-6268
Flying Pasties TM featured at CNN.com – "Griping Over Groping" Jeanne Moos reporting.
http://www.cnn.com/video/#/video/offbeat/2010/11/18/moos.griping.over.groping.cnn?iref=videosearch
Flying Pasties Girl Heather Shanholtz can be found at: http://heathershanholtz.com/
(http://concrave.com/content/00131-tsa-full-body-scanners-create-new-industry)
###