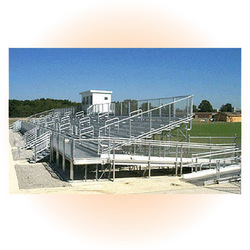 We are blessed to be prospering in this verdant environment of mountains, citizenry, and history. We intend to invest back into this community by protecting its natural setting and providing fulfilling careers for the ambitious people who live here.
Lexington, VA (PRWEB) January 17, 2011
Seventeen employees from ParknPool received an early 2010 Christmas gift when they happily packed up their belongings and moved across town to a brand new $1,000,000 Green Operations Center. ParknPool, in business since 1998, sells commercial outdoor furniture and site amenities, supplying bleachers and grandstands, portable bleachers and stadium bleachers, as well as other bleacher seating such as aluminum bleachers, park furnishings, restaurant furniture and much more.
The staff at ParknPool were all able to become such close friends after spending the last five years in a 1,500 square foot office together. Now the employees are thrilled at the space and beauty of the new 5,000 square foot facility. Alice Vaughan-Williams says, "I am ecstatic about having new technology and plenty of space!"
It has been ParknPool's mission not only to build a technologically advanced operations center, but to make that office building environmentally responsible also. In their business they provide site amenities that are "enviro-friendly," so this office building is a natural extension of their work.
Lineage Architects of Verona, Virginia designed the sustainable building. Pennie Garber, Principal Architect of the firm says "Jim and Brenda Fonner should be commended for their courage to build a sustainable building. We as a society can talk about sustainability all we want (and we designers can plan and draw all day long), but until businesses like ParknPool take the initiative and spend the money to actually build something that is environmentally conscionable, no good is actually done. It's my hope that many will be willing to follow in their footsteps."
The design team worked diligently with Jim and Brenda to protect the trees on the heavily forested site, ensuring eighty percent of the existing tree cover has remained completely undisturbed. The linear footprint of the building allows maximum natural light into the interior spaces, and every occupant has a window to the exterior. Interior windows were also incorporated into the design plan, allowing natural light to travel the entire building. This natural light and ventilation will reduce energy consumption associated with artificial light and HVAC systems.
John Hennis of LexCon, LLC, ParknPool's General Contractor used "Insulated Concrete Forms" (ICF) to construct the building's exterior walls. These forms are comprised of expanded Polystyrene which hold "poured-in-place" concrete. When a standard concrete wall is poured the forms typically used are made of plywood, and are removed and discarded after the concrete is hardened. In the ICF construction used for ParknPool's building the polystyrene forms were left in place. This not only eliminated waste on the jobsite, but has created an energy efficient wall. In addition to the energy efficiency, ICF construction is incredibly durable and can withstand hurricanes, tornados and other disasters that conventionally framed buildings cannot.
The building has a "cool roof," a metal roof designated as such because it does not absorb excessive heat from the sun, resulting in lower cooling costs during the summer months. Metal roofs have longer life spans than asphalt shingle roofs, lasting for many decades. They are very low maintenance and durable. The roof on ParknPool's building was finished with Kynar paint, which is the same finish required on airplanes. The attic was filled with "Icynene" soft spray foam insulation, which is healthier, quieter and more energy efficient than other insulations available.
The siding selected for ParknPool's building is fiber cement, which is durable as well as resistant to rot and insects. No trees are harvested when fiber cement siding is specified. Great care was taken with all of the materials selected for this project to ensure that locally produced materials were used. Not only did this benefit local economies, but it required shorter transport, using less diesel fuel.
Jim Fonner, Administrative Manager of ParknPool states, "We are very excited to have constructed our new operations center. It is our objective to become the primary supplier for outdoor furnishings in the United States. We are achieving this goal with outstanding community resources, energized employees, and a focus on unrivaled client satisfaction. We are blessed to be prospering in this verdant environment of mountains, citizenry, and history. We intend to invest back into this community by protecting its natural setting and providing fulfilling careers for the ambitious people who live here."
###