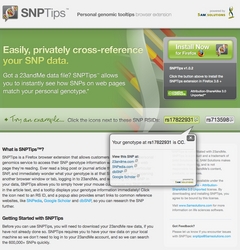 With the click of a mouse, you can view your personal genotype at any SNP mentioned the web – such as a genetics blog or journal article.
Reston, VA (PRWEB) January 11, 2011
5AM Solutions, a life science software engineering firm, announces the release of SNPTips, a Firefox browser plug-in that connects a user's 23andMe personal genetic information to web content with a single mouse click.
Personal genetic testing services such as 23andMe provide genetic testing for individuals outside of a physician's office. These services typically probe a person's genome for thousands of single nucleotide polymorphisms (SNPs) that represent potentially important or interesting genomics differences between one person and another. 23andMe provides tools and reports for interpreting this information. For a user interested in connecting his or her genetic information with the treasury of literature and information on the World Wide Web, there's no clear way to make the link. Which is why 5AM created SNPTips.
"SNPTips links your 23andMe raw data to SNP IDs that are mentioned in across a sea of web content. With the click of a mouse, you can view your personal genotype at any SNP mentioned the web – such as a genetics blog or journal article. SNPTips also includes smart links to other web resources, like SNPedia, Google Scholar, and NHGRI's dbSNP – so you can delve deeper with a single click," said Will FitzHugh, 5AM's Chief Science Officer. "We started with 23andMe because it's the market leader in personal genetics. We anticipate expanding SNPTips in the future to support other personal genetics services and browsers."
"Our company works to make the web the place for life science collaboration," said 5AM's President & CEO, Brent Gendleman. "SNPTips brings that ability directly to consumers of personal genomic information. People can translate their genetic information into what they want to know, right through the browser. It can't get more convenient than that."
"The very existence of 23andMe allowed us to innovate and meet a need that leveraged what they do, extending it in a simple way through a common mechanism – the browser. SNPTips represents a way to extend their work, furthering people's ability to tackle the complexity of genomics in a way that is straightforward and consumable by a wide audience," said Gendleman.
SNPTips makes use of a person's complete 23andMe SNP raw data profile, and requires that a user safeguard the use of that information by employing it only on a machine under his or her control. SNPTips does not move any personal information across the Internet.
SNPTips is available for free at http://snptips.com and requires a Firefox 3.6+ browser.
About 5AM Solutions
5AM Solutions develops innovative software solutions for academic, government, commercial, and non-profit life sciences organizations. The company helps evolve the way biomedical researchers work and collaborate by using software to reveal new insights hidden in vast amounts of data, facilitate translational research, and solve workflow challenges. The company's solutions can overcome IT-based roadblocks to discovery and accelerate progress toward the ultimate goal of better health and improved patient outcomes.
About SNPTips
For information on SNPTips, visit http://www.snptips.com. To install on a Firefix 3.6+ browser, simply click the Install Now button, and follow the directions on the website to configure. SNPTips is free, and is released under the Creative Commons Attribution-ShareAlike 3.0 Unported license.
About 23andMe
SNPTips is not affiliated with 23andMe. SNPTips is a product and a trademark of 5AM Solutions, Inc. 5AM Solutions makes no claims regarding, and is not responsible for, 23andMe's content, products, or services. Visit http://www.23andme.com for information on 23andMe.
###