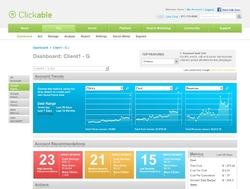 Clickable helps advertisers unlock the full value of their pay-per-click advertising investments across Google, Bing and Facebook.
New York, NY (PRWEB) January 18, 2011
Clickable, the all-in-one solution for online advertisers, today announces new tools and services to make creating and managing Facebook Ads simple, fast and scalable. Now in public beta, the new Facebook Advertising Suite is an extension of Clickable Pro, the award-winning pay-per-click bid management technology.
Clickable's Facebook Advertising Suite introduces modular tools to create, manage and deliver dozens of ads all at once from combinations of images, ad copy and target audiences. The Suite's ad builder can assign ads to multiple campaigns, or even create new campaigns. And the Suite's media and target libraries allow marketers to easily store and manage assets for future use with intuitive tagging and descriptions.
Clickable Pro's Facebook Advertising Suite also works with Clickable Conversion Tracking, a powerful online monitoring system that tracks website conversions from Facebook, along with all other advertising networks, with a single tag. Combined with Facebook's internal conversion tracking and "social context" metrics, Clickable provides a complete picture of advertising engagement and performance.
"As a member of the Facebook Ads API beta program, Clickable was one of the first live Web services to pioneer search and social advertising within a single management tool," said David S. Kidder, Clickable co-founder and chief executive officer. "Clickable's latest technology for Facebook Ads emphasizes our commitment to help advertisers unlock full value and discover new opportunities across multiple ad networks and emerging channels."
In addition to technology, Clickable Solutions include dedicated PPC and social advertising experts to create custom programs that drive advertising performance across all major ad networks, including Google, Bing and Facebook. Clickable Solutions can include campaign strategy, creative development, campaign launches, tracking, optimization and ongoing opportunity analysis.
"We will continue releasing more features and technologies to help advertisers become more efficient and effective with Facebook Ads," said Nidhi Khator, Clickable Product Manager for social advertising. "We also will extend many of Clickable's favorite bid-management features to Facebook advertising, including sophisticated reporting and recommendations, bulk editing, ad scheduling and campaign visualization."
To get started, visit http://www.clickable.com/facebook
About Clickable:
Clickable is the all-in-one solution that makes online advertising Simple, Sophisticated and Profitable (tm). Clickable reduces the time and complexity of managing multiple ad networks, such as Google, Yahoo, Bing and Facebook. Clickable is powered by dedicated search and social advertising specialists, along with award-winning PPC bid management and conversion tracking technology. Clickable empowers advertisers to maximize their ROI with complete transparency. That's why customers often say: "Clickable is like having a trusted expert always by your side ensuring success." To learn more, visit http://www.Clickable.com.
###