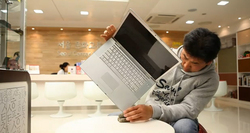 i Tour Seoul's Refreshing Spin on Promotional Tourism Videos Garners Interest from Netizens
Los Angeles, CA (PRWEB) March 11, 2011
Seoul city's official tourism guide, i Tour Seoul, has taken their first stab at marketing promotional videos and it seems that their efforts have started to garner a lot of attention.
A total of four videos have been released, each of which feature the astonishing skills of several different experts with unique specialties. Through these videos, i Tour Seoul hopes to send the message that users of i Tour Seoul's digital, cross-platform service (i Tour Seoul is a website, a mobile website and a smartphone application) can also become an expert, of Seoul that is.
i Tour Seoul's YouTube channel has been seeing a steadily increasing number of hits and comments ever since i Tour Seoul posted their first video last January 11th. Among these, a video of a balancing expert pulling off extraordinary feats at popular Seoul tourist attractions and landmarks such as the Insadong Tea House and World Cup Stadium has gained the most popularity. Videos featuring a boomerang expert's incredible skills with Namsan (Mt.) and Hanok Village in the background have garnered a lot of attention as well.
Viewers have been evaluating these videos as refreshing and fun, different from the usual boring promotional videos that only feature traditional buildings and Korean celebrities. Instead of following the usual recipe, these videos strengthen Seoul's image through the use of friendly humor, and it seems that viewers are appreciating the change.
i Tour Seoul is expecting even more hits with the promotional video contest they are running from now until March 17, 2011. Contest participants have a chance at winning an iPod Touch 4 (8GB) or an i Tour Seoul passport case, just by watching the videos on the i Tour Seoul website and leaving a comment.
###