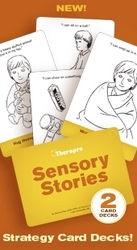 Framingham, MA (PRWEB) April 6, 2011
Therapro is now offering Sensory Stories Strategy Card Decks as a supplement to its already popular Sensory Stories range of products focused on autism therapy.
Sensory Stories teach children with over-responsive sensory modulation and sensory integration disorder to successfully engage in activities within the home, school, and community. These 30 Sensory Stories – 10 each for situations at home, in school and in the community - instruct the child to use calming sensory strategies in order to deal with the unpleasant sensory aspects of daily situations such as: bathing, eating, getting a haircut, going to a restaurant and being at school. When read on a regular basis, Sensory Stories assist the child in developing effective routines to manage the sensory experiences surrounding typical daily activities.
Sensory Stories use specifically designed sensory strategies to provide the child with calming sensory input through deep touch pressure, active resistance to movement, and slow linear movement. By giving the child sensory strategies, the child is equipped with key activities to make the experience much better.
The strategies in Sensory Stories have been specifically selected due to their socially acceptable nature. The sensory strategies can be readily employed in public places without drawing undo attention to the child. By using calming sensory strategies such as doing self-imposed hugs, wearing a heavy fanny pack, and wiping the mouth firmly with a napkin, the child learn ways to successfully manage the situation and participate fully in the experience.
The Sensory Stories Strategy Card Decks are portable, visual reminders of the various strategies that children can employ to cope with unpleasant sensations in daily life. These 45 sensory strategies can become integral parts of a sensory diet. With ready access to the cards, children have a tangible reminder to employ calming sensory strategies that can promote participation in daily activities.
With the addition of Strategy Card Decks to the Sensory Stories line of products, Therapro aims to provide those with sensory processing disorders coping skills for uncomfortable situations.
Therapro was founded in 1986, offering innovative products for occupational therapists, speech therapists, physical therapists, educators, and parents. Therapro.com provides unique speech and occupational therapy assessments and products for children with sensory processing disorders.
If you'd like more information about this topic, or to schedule an interview with Karen Conrad Weihrauch, please call Dave Clough at 978-206-1529.
# # #