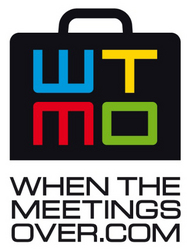 WTMO sits between Facebook and LinkedIn, and streamlines our hectic social and business lives into one engaging destination
(PRWEB) April 14, 2011
It was originally born from the founding member's frustration at not being able to connect easily with like-minded people whilst away on business. This wasn't just on a professional level but socially too; when being away for long periods can become depressing and lonely.
The concept quickly developed in to much more than a connection portal for business travellers. WhenTheMeetingsOver.com provides an advanced social environment for members to network professionally and personally. It also provides the latest business and lifestyle content through its City Guides and Blogs to include categories such as Business, Fashion, Sport, Entertainment, Travel, Food & Drink, Technology, Current Affairs and much more besides.
Stuart Dawson, CEO of WTMO says, "WTMO embraces the fact that we are all busy and provides an environment to optimise our time online whether that's networking, arranging a night with friends or looking for something different in a new city. It's not designed for the Facebook generation of soul-baring wall writers, but for professionals that require a purpose-built social network to enhance their work / life balance."
He goes on to say, "What we're really excited about is WTMO's move into mobile with smartphone technology. In the near future, our members will be able to use GPS technology to pin point their location in any city around the world to get amazing offers from local businesses and strategic partners. This will enable the WTMO brand to be a constant conduit between our members and businesses looking to monetise social media."
The launch is just the beginning in what promises to be an exciting few years for the new online brand.
###