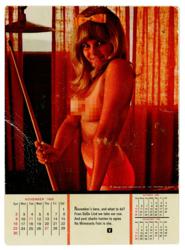 A calendar photo of Playboy's Miss August 1967, DeDe Lind, that was stashed in the Apollo 12 command module during its November 1969 lunar voyage.
Amherst, N.H. (Vocus/PRWEB) January 11, 2011
Approximately 450 unique and amazing artifacts of the Space Age—from the earliest rocket missions to the space shuttle, including the memorable and historic Mercury, Gemini, and Apollo programs—will be featured in a special Space Artifacts sale at RR Auction this month. The RR Auction event will feature some of the most memorable objects ever flown in space. Bidding will run from Thursday, January 13 to Thursday, January 20.
Among the stunning pieces is a Playboy Playmate brought secretly to the Moon. A calendar photo of Playboy's Miss August 1967, DeDe Lind, was stashed in the Apollo 12 command module during its November 1969 lunar voyage. Although photocopies of Playboy bunnies made it to the lunar surface during other missions, this remains the only original color likeness to do so. Command module pilot Richard Gordon has signed and certified the item.
Also here is a headset that spoke to the first men on the Moon. Charlie Duke wore it on July 20, 1969 as capsule communicator for Apollo 11 during the first manned Moon landing. The words from Buzz Aldrin ("Contact light, OK, engine stop") and Duke's reply ("We copy you down, Eagle") rank among the most pivotal conversations in history, arguably more significant than Neil Armstrong's "Giant leap" statement.
A 22-inch-long electric power instrument panel is here—the same type of panel used by NASA during the mid-1960s in preparation for the Apollo 1 mission, which claimed the lives of Gus Grissom and fellow astronauts Ed White and Roger Chaffee. North American Aviation sold the remaining parts from the Apollo program after the accident. This beautiful Apollo-era artifact—with all of the associated electronics, wiring, dials, and switches intact—has been held by the same owner for at least 30 years.
Feeling hungry? The auction includes an example of amazingly unappetizing but unique freeze-dried Moon food, labeled "Beef Pot Roast." The label also bears the simple heating instructions: "3 oz. hot water. 5-10 minutes." It was prepared by adding hot or cold water through a nozzle; it was then squeezed into the mouth through a flat tube stored in the package. Food created for the Apollo missions was preserved through freeze-drying and vacuum-sealing, resulting in a product that preserved its nutritional qualities and taste.
Collectors of flight-flown material always covet the small American flags carried by crews into space, and this RR Auction event will not disappoint aficionados: a flight-flown flag from each Apollo mission is present. Here, as well, are silver Robbins Medals from each Apollo mission. These scarce and highly collectible mementos, some of which made their way to the Moon and back, are prized whenever they can be found—with this being the first time they are being offered as a complete run in one setting.
Numerous autographs from astronauts are to be offered as well, with a signed photograph from many mission crews here: for example, there are photos signed by all of the Mercury 7 astronauts, Apollo crews (including members of Apollo 1 and Apollo 11), the tragic Challenger crew, and of course, Soviet cosmonaut Yuri Gagarin—who in 1961 became the first human being in outer space.
All signed items have been reviewed by Scott Cornish, who has studied autographs for more than 30 years and specializes in authenticating space autographs; Ken Havekotte, well known for his expertise in this area, has reviewed all flight-flown material. For information, visit the RR Auction web site at http://www.rrauction.com.
###