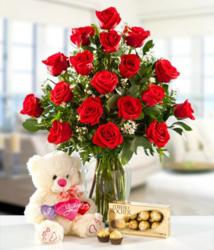 If you want to surprise your loved one with a Valentine's Day bouquet, organize it now.
Miami, FL (Vocus/PRWEB) January 21, 2011
Across the world, it's estimated that thousands of people marry on Valentine's Day each year. Many others renew their vows or propose marriage. For these couples in particular, it's very important to plan ahead, since there's so much competition for great venues and surprises. That planning also includes special Valentine's Day flowers.
Restaurants fill up early and so do the best venues for romantic breaks. Anyone planning travel can expect to pay a premium unless they take advantage of rare deals. Even florists may run low on supplies for Valentine's Day flowers. There's a reason that now, straight after the holidays, the stores are full of pink and red hearts!
Francisco Bustos, CEO and President of international flower delivery company daFlores, suggests that now is the perfect time to organize your Valentine's Day flowers and trips. "Don't wait," he urges. "The craziness of the holidays is over and you have an ideal, quiet period to make your arrangements. If you want to surprise your loved one with a Valentine's Day bouquet, organize it now."
Florists such as daFlores are already displaying picture-perfect Valentine's Day arrangements in their stores.
If a wedding anniversary gives you the best reason in the world to celebrate Valentine's Day, an armful of gorgeous red roses or exquisite lilies adds the perfect finishing touch. "We can provide Valentine's Day flowers for your anniversary," explains Mr. Bustos. "We can even provide flowers, wine and teddy bears. We'll deliver them to your hotel or to your home: just say the word. But it's up to you to make it happen."
About daFlores International Flower Delivery Company
DaFlores.com, a family-owned business, is based in Miami, Florida. DaFlores.com prides itself on superb customer service and a network of experienced local florists. Founded in 2000, the company provides expertly-created, fresh bouquets for Valentine's Day, anniversaries and all special occasions.
# # #