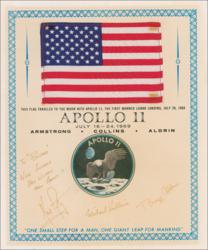 Apollo 11 flag that traveled to the moon, the first manned lunar landing, July 20, 1969
Amherst, NH (Vocus/PRWEB) January 22, 2011
A small flag that was flown aboard Apollo 11 was auctioned last night for $47,652, a new record for a flag from that mission, according to Amherst, NH-based auction house RR Auction. The space souvenir was signed by Apollo 11 astronauts Neil Armstrong, Buzz Aldrin and Michael Collins, and accompanied Armstrong and Aldrin to the moon's surface in July 1969. A commemorative silver medal that was also onboard the Apollo 11 lunar module sold for a world record price of $38,725.
The flag was accompanied by a certificate stating, "This flag traveled to the moon with Apollo 11, the first manned lunar landing, July 20, 1969," along with the astronauts' three signatures. An additional inscription from Armstrong read, "To Rooster with sincere best wishes from Apollo 11." Rooster Andrews was the owner of a very successful sports shop business in Texas, a keen space collector, and a friend of the astronauts.
"Collectors of flight-flown material always covet the small American flags carried by crews into space," said Bobby Livingston of RR Auction. "This sale more than doubles our previous sale record for a flight-flown flag in 2008, and certainly marks what we believe to be a new world's record price for a flight-flown flag."
Approximately 450 key items from the memorable and historic Mercury, Gemini and Apollo missions—among many others—were featured in the auction, including a headset used to communicate with Armstrong and Aldrin during their lunar mission, a calendar photo of a Playboy Playmate brought aboard the Apollo 12 command module, a sample of NASA space food, and a 22-inch electric power instrument panel of a type used by NASA during the Apollo era.
"The Apollo 11 flag is a terrific memento and rare artifact from the first lunar landing," says Robert Pearlman, editor and founder of collectSPACE.com, the leading website for the space history community. "Anything carried to the moon usually draws strong interest, but Apollo 11 memorabilia and flags like this one in particular are among the quintessential pieces for anyone seeking to build a space history collection. Not only did their highlight lots perform well, but many of the others far exceeded pre-auction estimates."
"International media coverage was phenomenal," said Livingston. "The world embraced these incredibly rare artifacts. A standout, of course, was the DeDe Lind Playboy calendar image, which ended up breaking a world record as well, selling for more than $21,000."
Established in 1976, RR Auction is known to collectors and dealers worldwide as the most respected auction source for guaranteed authentic autographs.
RR Auction's next auction will be online January 21, 2011. More details can be found online at http://www.rrauction.com.
###