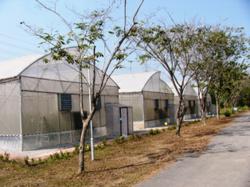 Tropical Horticulture @ VolkerKleinhenz.com
(PRWEB) October 15, 2011
The paper on "Biomass accumulation and partitioning of tomato under protected cultivation in the humid tropics" presents results of a 2-year structural analysis of indeterminate tomato (Lycopersicon esculentum Mill.) cultivated under protected cultivation in the humid tropics of Central Thailand. Biomass production was similar to regions at greater latitude with much lower global radiation. Plant density had no effect on biomass production and other factors indicating that availability of light had only limited effect on growth in closer stands. The most striking difference to greenhouse tomato production at greater latitude was the low percentage of biomass distributed to fruits. Crop responses to lack of sink strength resulting from poor fruit set were deformed leaves and accelerated growth of auxiliary shoots. The generally low amount of fruit biomass was also due to lack of pollination and, therefore, development of parthenocarpic fruits under high temperatures particularly during night. When nighttime greenhouse temperatures exceeded ca. 27°C, lack of pollination resulted in parthenocarpy and consequently low marketable yield. While application of growth regulators (auxins) such as CPA (chlorophenoxy acetic acid) and NAA (naphthylacetic acid) to flowers do not prevent early flower drop and parthenocarpy but improves enlargement of parthenocarpic fruits and is common practice in some countries in the sub-/tropics such as Taiwan.
Besides providing an overview of his scientific publications, his homepage includes Volker's professionally designed Curriculum vitae which summarizes his profile as follows:
Technically sophisticated and business-savvy Agriculture professional with 13+ years of experience in vegetable and fruit crops' cultivation. Progressive leadership experiences have created a passion for improving crops' productivity through development of effective crop and pest management strategies, usage of scientific approaches for soil management, and recommendation of crop cultivation based on climate. Strong international experience, with a good understanding of climatic conditions and business challenges faced in several Asian countries.
An exceptional communicator with superior people management skills and the ability to build and mentor high performance teams. Possess a keen eye for detail and well-refined analytical abilities. A team player, who can work unsupervised, accomplishing multiple priorities within aggressive timelines.
This information is also accessible through Volker's tabular Curriculum vitae at LinkedIn.com.
# # #