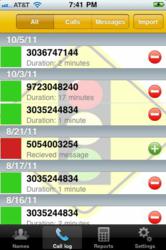 "Research shows that 9 out of 10 parents will never know inappropriate and perhaps dangerous contact has occurred with their child. Monitoring your child's calls and texts is one way to keep them safe."

Fort Collins, CO and Woodland Hills, CA (PRWEB) November 03, 2011
Parents can breathe easier knowing that they can see who their child is communicating with through cell phone texts and calls, using a new iPhone app, TueenTime ($4.99). Developed by Colorado-based, Advantura Technology Group, Inc., TueenTime is available for both AT&T and Verizon customers and provides real-time access to the call logs for any child on the account holder's "family plan" and for any type of phone the child might have.
Recent statistics show that 20% of children, ages 10-17, have received unwanted solicitations; 89% of these solicitations have been made through an internet chat room or through instant messaging. TueenTime downloads call and text logs for any child on your "family plan". Installed on the account holder's iPhone, TueenTime can be used to flag known safe phone numbers "green" while unknown or unsafe numbers can be flagged "red". Flag settings remain through subsequent downloads making it easy to identify (and take action) on unwanted activity. A report of call and text activity for the child can be generated and TueenTime comes with a built-in email capability.
"To keep your child safe from technology, use technology," comments Advantura Technology Group's President, Victoria Girdziunas. "Research shows that 9 out of 10 parents will never know inappropriate and perhaps dangerous contact has occurred with their child. Monitoring your child's calls and texts is one way to keep them safe, and is mandatory in today's predatory environment."
Advantura Technology Group, a mobile app developer and provider of software development services, has provided software solutions since 2006. Available through iTuneshttp://itunes.apple.com/us/app/tueentime/id455919501 TueenTime is one step that a parent can take to protect their child. Advantura Group is also the developer of RogueTime, an iphone call tracking and billing application for lawyers and consultants. To learn more about the products or services offered by Advantura Technology Group, Inc. can visit the Advantura Group site or contact Victoria Girdziunas at 1-303-524-4834 or Andrea Davies at 1-818-620-9868.
# # #