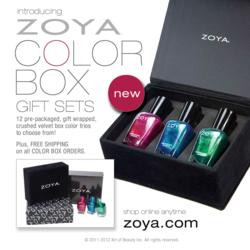 The Zoya Color Box... Twelve perfectly coordinated gift set trios from Zoya Nail Polish in a wrapped, luxury gift box.
(PRWEB) November 23, 2011
Introducing the Zoya Color Box... The first ever luxury boxed nail polish set from Zoya Nail Polish - Zoya is the new color of fashion!
The Zoya Color Box is the perfect gift for nail polish and beauty product lovers! This beautifully packaged, deluxe gift item is arriving just in time for the Holiday season.
Each Zoya Color Box Gift Set arrives in a crushed velvet collectors box with three color expert curated, best-selling Zoya Nail Polish* shades (0.5 oz - full size bottles) and is individually packaged in a black glossy outer box which is then individually wrapped in custom "Zoya" tissue paper. It's the perfect gift for friends, family, co-workers, teachers or just as a personal treat.
Our Color Expert has personally selected twelve Zoya Color Box gift trios for you to choose from. Each trio features three proven, best-selling shades from classic reds to beautiful beiges to soft grays to spectacular sparkles – they are all there – beautifully packaged and ready to celebrate the season!
The Spectacular Sparkle Zoya Color Box is featured here. This deluxe trio features three stunning sparkle shades in Alegra (pink nail polish), Charla (blue nail polish) and Ivanka (green nail polish). Eleven other color combos are also available.
Plus, every Zoya Color Box Gift Set qualifies for free expedited shipping on zoya.com to make sure gifts arrive in time for the holidays.
$24.00 (US)
Bonus: Free Shipping on all Zoya Color Boxes.
Available online – November 22, 2011
Exclusively on zoya.com
New at Zoya.com - "send this as a gift": Use the "Gift Option" at checkout and Zoya will remove all price information from the order and allow a personal message to that special someone to be entered.

Vegan Friendly, Zoya Nail Polish and Treatments are completely free of formaldehyde, toluene, dibutyl phthalate (DBP) and camphor.
###