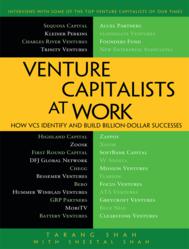 "This is probably the single most valuable resource for the entrepreneurs aspiring to build successful companies," says Ron Conway, Special Adviser, SV Angel, and investor in Facebook, Google, and more.
New York, NY (PRWEB) November 29, 2011
Author Tarang Shah interviews 35 of today's most successful investors in "Venture Capitalists at Work: How VCs Identify and Build Billion-Dollar Successes," a new book from Apress Media. Based on his interviews, Shah shares his top five tips for making your start-up a success.
1. Big & Bold Idea.
Go after unconventional, game-changing ideas. Don't be afraid of being contrarian. In fact, the riskiest ideas are often the ones that most people believe will succeed. What's more, with big ideas there is room to maneuver and overcome short-term failures.
2. A.I.M. (Authenticity, Integrity, and Motivation).
These are three personal characteristics key to your success. As "Venture Capitalists at Work" shows, "authenticity"—putting in the time and effort required to really understand the market—often separates billion-dollar successes from common failures. Evan Williams gained authenticity, for example, in his earlier blogging start-up. This gave him the insight and passion to start Twitter when most people thought the future of blogging was multimedia blogging and not 140-character microblogs. Similarly, Groupon co-founder Andrew Mason used the power of online resources in driving offline group behavior and applied it to create the biggest local commerce story of our time.
Lead with integrity in your interactions with customers, investors, employees, and partners. When no one knows you or your start-up, the best in the business join and stay with you because of your character.
And most importantly, search your true motivation and go after solving problems that you feel genuinely passionate about. Money is not a sufficient motivator to overcome the ups-and-downs so common in the start-up journey.
3. "A+" DNA.
Pay close attention to the first 10-12 people you hire, because they determine the cultural DNA of your company and, in turn, its success or failure. Don't settle for anything less than A+ candidates. Hire for cultural fit as much you hire for functional skills. The only people who belong in your start-up are those who are extremely passionate about solving the problems your customers have and making a real difference in the world. As you read "Venture Capitalists at Work," you will find that Facebook, Twitter, YouTube, Groupon, etc. are great examples of start-ups that placed a premium on hiring well. They all assembled world-class teams to create a "10x productivity advantage" over their competitors and to solve problems at an unimaginable scale.
4. R.I.P. (Rapid Iteration & Pivot).
Launching a start-up is a race against time. Run at extremely high RPM to "iterate" product ideas and pivot to better ideas rapidly until you land the right product-market fit. Failed companies often cling to the original idea, while successful ones learn from their customers and refine or change products often. Iterate and pivot successfully, and you'll eventually discover an idea that resonates with your customers. All major successes, including Facebook, Groupon, Chegg, etc., have iterated and pivoted from earlier, less-successful versions.
5. Objectivity & Adaptability.
Be passionately disinterested and brutally honest about everything that matters. And then act on it. As investor Gus Tai explains in "Venture Capitalists at Work," being passionately disinterested means to actively and objectively seek out the truth without being afraid of or predisposed towards what you may find out. What is your customer really telling you about your product? Is the market really developing? Do you really know how much better you are than your competition? In this uncharted, dynamic territory, the key to success is to be brutally honest about what the market is telling you and then change direction swiftly. Finally, balance analytics with intuition to avoid either whimsical or purely data-driven turns in direction.
"Venture Capitalists at Work" shares the stories of venture capitalists behind some of the most notable start-up successes. In interviews with top venture firms and entrepreneurs, it analyzes more than seventy billion-dollar success stories like AdMob, Angry Birds, Bebo, Blue Nile, Chegg, Dropbox, Eventbrite, Facebook, Flarion, Groupon, Hyperion, Huffington Post, LinkedIn, MobiTV, Opower, Overture, PayPal, Starent, SpaceX, Twitter, Xoom, YouTube, Zappos, ZocDoc, Zoosk, and many others.
"This is probably the single most valuable resource for the entrepreneurs aspiring to build successful companies," says Ron Conway, Special Adviser, SV Angel, and investor in Facebook, Google, Twitter, Four Square, PayPal, Zappos. This must-read book brings together a vast pool of untapped and fragmented knowledge about start-up building and venture investment, and it offers entrepreneurs an actionable and indispensable guide to gaining support for their ventures. "Venture Capitalists at Work" is a first in terms of the level of detail, quality of discussion, and value to the entrepreneur.

ISBN13: 978-1-4302-3837-9
500 Pages
User Level: Beginner to Advanced
Publication Date: November 23, 2011
Available eBook Formats: EPUB, MOBI, PDF
About the Author
Tarang Shah is a venture capital professional. At SoftBank Capital, a venture capital fund, he helped with start-up investments totaling $50 million. He has reviewed 1000+ start-ups and served as a board member and CEO advisor for over a dozen start-ups. Tarang is currently a technology innovation executive for one of the largest financial institutions in the US, where he has built and leads a start-up risk assessment practice based on his venture model.
About Apress Media
Apress Media LLC is a technical and business publisher devoted to meeting the needs of IT professionals, software developers, programmers, and business leaders with more than 1,000 books in print and electronic formats. Apress provides high-quality, no-fluff content that helps serious technology professionals build a comprehensive pathway to career success. For more information about Apress' innovative approach to publishing, please visit http://www.apress.com.