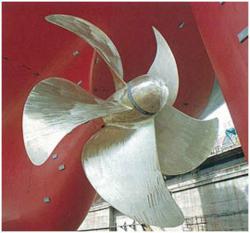 Hull Medic calibrates a ship's propeller to track power, fuel, and CO2 emission increases over time.
Stonington, CT. (PRWEB) April 06, 2011
Ship owners, ship operators, and ship managers realize that hull fouling causes drag-related speed loss and increased fuel consumption when more power is delivered in order to maintain ship schedules. Hull fouling is also a topic of growing environmental concern and international regulation as it relates to green house gas emissions and the carriage of aquatic invasive species on fouled hulls.
To combat these issues, shipping companies are relying on modern hull coating systems like foul-release paint to provide a ready solution. Foul-release and most other types of marine hull paint are expensive and shipping companies have had few easy choices for accurately measuring paint performance and cost effectiveness before making fleet purchasing decisions. Some paint companies are now offering performance guarantees when ship owners buy their monitoring service along with the paint. This is like putting the fox in charge of the hen (data) house.
Foul-release paint may be a good environmental choice, but because this paint contains no biocides, it is susceptible to marine bio-fouling, which can become severe if a ship remains at birth for extended time periods. After reaching mature states, some forms of fouling may not "release" when the ship returns to open ocean steaming. A recent study showed that the resulting fuel penalty can be quite severe (over $100,000 per month in extra fuel burn for a single ship).
Ship owners need accurate scientific data to support intelligent decisions on coating systems and hull cleaning intervals. MACSEA now offers an independent hull monitoring service designed to save fuel and reduce emissions by detecting hull fouling as early as possible. The new service, called Hull Medic, uses automatic onboard data acquisition to gather salient ship performance data and transmit it ashore for detailed analysis. Hull Medic will typically review 100,000's of a ship's data records per month, providing high-accuracy statistical analysis for earlier detection of hull fouling.
Hull Medic calibrates each ship's propeller as a power absorption dynamometer, using propeller characteristics and "clean-hull" ship performance data. The calibration establishes the unique relationship between speed, propeller rpm, and shaft power for each vessel. The propeller can then be used to track power, fuel, and emissions increases over time. The technique works for ships with single, double, fixed, or variable pitched propellers. Performance reports are provided to shipping management on a timely basis such that significant fuel penalties don't go unnoticed.
About MACSEA Ltd.
MACSEA provides ship health monitoring solutions to the maritime industry for improved energy efficiency and equipment reliability. With three decades of industry experience, MACSEA helps clients avoid equipment breakdowns, optimize maintenance overhauls, and reduce operating expenses. This allows our customers to increase profits, improve fleet asset reliability, and achieve their environmental goals.
###