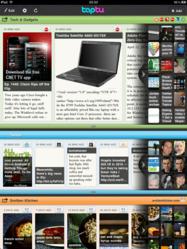 Cambridge, England & Denver, CO (PRWEB) April 14, 2011
Today Taptu, a social media and mobile technology company, announced the release of the Taptu App for iPad, a universal application that aims to change the way you connect with your world. Taptu is the preeminent next generation news service – built by journalists and scientists and from the feedback of hundreds of thousands of consumers.
"Thanks to the millions of downloads of our iPhone and iPod touch apps we listened to our customers and focused on delivering the most powerful way for customers to curate, follow and share content and brought it to iPad," said Mitch Lazar, CEO of Taptu. "Consumers can now choose from their widest interests to their most niche passions – all in one convenient app."
From the biggest stories of the week to your individual passions, Taptu allows you to keep everything organized in a clean and intuitive design. And thanks to the company's search engine heritage, the Taptu app goes beyond just "RSS" feeding content and recommends content users would be interested in based on previous reads, delivering related articles and allowing you to discover new ones. The company's search expertise also allows Taptu to avoid serving you the same story over and over.
The Taptu App focuses on five ways you'll connect to your world:

A unique visual experience.
Not just a pretty (inter)face, the Taptu App lets users easily navigate to any article you're interested in, both from the stream timeline and by a sort of 'Rubik's Cube of news' to the right of the stream that gives a visual preview of what's coming up next.
The Taptu App allows you to personalize your streams in two ways; you can change the size of the stream to display its content more prominently. Or, you can modify the color of your streams, allowing you to color code by interest – news, sport and finance, for example.
Everything in your world, not just a few RSS feeds.
The Taptu App goes beyond RSS sources and taps into its proprietary mobile search technology to bring you thousands more content sources than any other social news reader app on the market. All you have to do is type in a search, and Taptu will pull up a list of results from your favorite web sites, blogs and even Twitter feeds.
You can do this by visiting the StreamStore, the place to access news and content from the web packaged beautifully by Taptu in easy-to-follow streams. On the next visit, the StreamStore replenishes itself and displays new streams for you to choose from. Google Reader is now prominent in the StreamStore, letting you import all the RSS news feeds you already follow.
Recommendation technology.
Based on your searches and interests, Taptu's recommendation algorithm will serve up new content in the form of articles, sites and blogs you'll love.
Taptu serves related articles – both by topic and by source – providing new content related to the subject of the article on display, as well as providing additional stories on the same subject from related sources.
DJ your news mix. Users can mix streams and instantly become a content curator.
Mix a stream from scratch: Select your favorite blogs and sites and merge feeds together from Taptu's StreamStore, Bing RSS search and your Google Reader account.
Social media at a tap.
The Taptu App also connects to all your favorite social media sources without leaving the app. This includes full articles from Facebook and Twitter links, allowing you to see the news your social circle is sharing both on Twitter and Facebook – article cards display the full story.
The Taptu App is available for free from the App Store on iPhone, iPod touch or iPad or at http://www.itunes.com/appstore/.
About Taptu:
Founded in 2006, Taptu is an award-winning social media and mobile technology company based in Cambridge, England and Denver, Colorado. We build innovative platforms, tools and applications that enable highly personalized creation, curation, recommendation, search, discovery, management, consumption and sharing of content across all personal screen-based devices. Wapedia, Taptu's popular mobile Wikipedia with over 1 million downloads, is also available for download at the Apple App Store.
See http://www.taptu.com for more information.
###