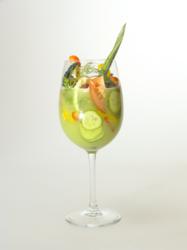 "This is our third video recipe contest and the focus is to show the public that making raw food recipes can be fast, easy, and fun," says Soria, "our goal is to demystify raw food preparation."
Mendocino Coast, CA (PRWEB) May 26, 2011
Living Light Culinary Institute, a gourmet raw food school in Northern California, launches the "5 in 5" Hot Raw Chef Video Recipe Contest June 1. Recipes for the contest must contain only five 100% vegan ingredients, with a minimum of 90% raw ingredients by weight, and must be prepared in five minutes or less. The $1450 Grand Prize includes a Food Styling for Photography class, taught by Denise Vivaldo, professional food stylist and author of The Food Stylist's Handbook, and Living Light founder and director Cherie Soria, author of The Raw Food Revolution Diet. Grand Prize winner will also earn a place as one of twelve featured chefs during the Living Light Chef Showcase, Hot Chefs, Cool Kitchen August 26-28. Deadline for submissions is Midnight June 30, 2011 Pacific Time. Runner up receives $450 in prizes, and the People's Choice Award, valued at $250, goes to the aspiring chef who wins the most votes online. A total of more than $2150 in prizes will be awarded.
The contest is open to both professional and amateur chefs who submit a five minute video demonstrating an original raw vegan recipe. Entries will be evaluated on presentation, teaching style, recipe quality, and adherence to judging criteria. Deadline for submissions is Midnight June 30, 2011 Pacific Time. Visit HotRawChef.com for contest guidelines and details.
"This is our third video recipe contest and the focus is to show the public that making raw food recipes can be fast, easy, and fun," says Soria, "our goal is to demystify raw food preparation."
Cherie Soria started Living Light Culinary Institute 14 years ago. She and her staff have inspired students from over 45 countries, teaching them how to make healthy gourmet, mostly gluten free raw vegan foods. The 5 in 5 Hot Raw Chef Video Recipe Contest will highlight step-by-step demos of quick and healthy dishes with a gourmet spin—everything from dairy-free vegan "cheeses" and pates, to appetizers, soups, entrees, breads, crackers, sauces, dips, and desserts.
Living Light International has four eco friendly businesses on the Mendocino coast of Northern California: Living Light Culinary Institute, Living Light Café, Living Light Marketplace, and Living Light Inn. The Living Light Chef Showcase takes place every fourth weekend in August.
###