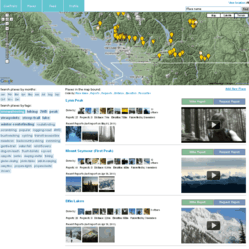 Vancouver, BC (PRWEB) June 26, 2011
Live Trails, a location-based social network dedicated for outdoor enthusiasts is launched today as a platform focused on helping people to share and discover outdoor places.
It is built to make it easy to share information. People can post comments, photos, and movies about the outdoor places they visit, as easy as sticking post-it notes. They can also request posts and join other requests to build public leverage for content. The system uses services from Facebook, Google Maps, Flicker, Picasa, and Youtube to enable users to share maps, photos, and movies.
The origins of the website idea goes back when its founder Ahmad Wasfi battled hypothermia for 17 hours after he got lost while hiking in a provincial park in Canada in mid Winter. "It was a profound experience. I promised that I would do something about it but didn't know that it would take 2 years of development." said Mr. Wasfi.
"I found that 90% of the outdoor information is not available in a format that people can quickly understand. Many sources lack timely information. People really want to share their experiences and knowledge with others, and we have developed a system to allow them to do that much more efficiently."
Most of the places are currently in Canada but anyone can add new places anywhere
"Our belief is nature is the greatest incubator of our values but people have to get prepared when they head outdoors. We think with our system, people can find the information that they are looking for easily."
###